If you're looking for the best bushcraft knife, look no further. These bushcraft knife reviews will help you find exactly what you need.
The best bushcraft knives come in a variety of styles – you just need to find the style that will allow you to do the things you need to do.
Our Top Best Bushcraft Knifes
| Picture | Bushcraft Knife | Review |
| --- | --- | --- |
| | Morakniv Bushcraft Carbon Steel Knife | Our Review |
| | Morakniv Companion Fixed Blade Knife | Our Review |
| | Tops Knives B.O.B. Brothers Knife | Our Review |
| | Condor Tools & Knives Bushcraft Parang Machete | Our Review |
| | Morakniv Bushcraft Carbon Tactical Knife | Our Review |
What to Look For In a Bushcraft Knife
Bushcraft knives are specialty knives. They don't serve the same purpose as a typical survival knife or hunting knife. Believe it or not, the true test of a bushcraft knife's quality is whether or not you can use it to carve a spoon out of wood.
The best bushcraft knives can be used to make basic tools from the ground up, and many bushcraft knives can be used for even bigger tasks.
Ideally, you want a medium length blade with a perfect tip. Great bushcraft knives are never serrated, and they're the right size to be portable. Anywhere between 4 and 6 inches of blade is perfect.
The grind on the blade should be very fine, and the blade should be a little thicker than a standard knife blade thickness.
The Best Bushcraft Knife Reviews
The best bushcraft knife is in the eye of the beholder. Find out which knife you'll have your eyes set on. These bushcraft knife reviews will lead you in the right direction.
Morakniv Bushcraft Carbon Steel Survival Knife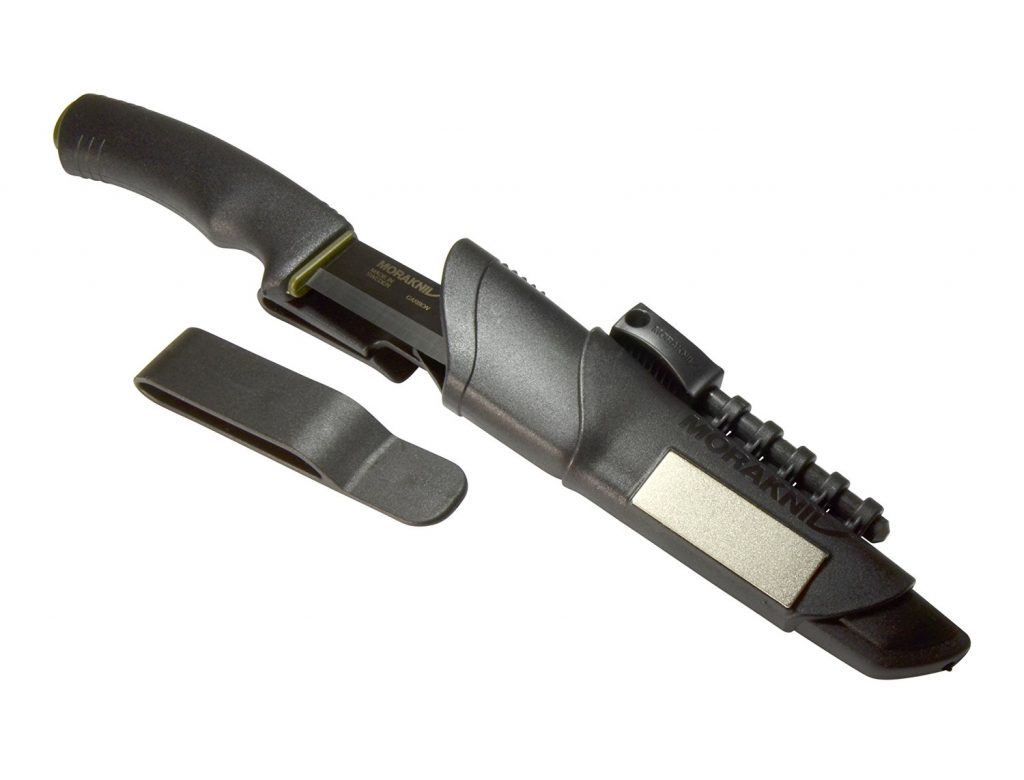 This knife has a lot working to its advantage. With a length of 4.3 inches and a thickness of 1/8 of an inch, the blade can really take a beating.
The blade itself has a special coating that prevents corrosion, making it great for damp environments or wet work. The best part is that this is more than just a knife – it's more or less a full kit you can use in the wilderness.
PROS
Sheath features a holder for a fire starter, as well as an actual fire starter. The starter lasts for up to 7000 strikes, and it's easy to replace when you've exceeded that number.
There's a built-in diamond knife sharpener right on the sheath. You won't need to buy a separate one, and it's easy to sharpen your knife out in the woods. The sharpener even works when it's wet.
Handle grip is ergonomic and textured to prevent the knife from slipping out of your hand.
CONS
Sharpener only provides a coarse surface. You'll need a smooth ceramic plate to hone the blade for finishing purposes.
CONCLUSION
This is the best bushcraft survival knife. It's hard to beat all of the bonuses that come with this knife. It's everything you need for field work, and all you need to carry is the knife itself and the sheath.
This is a smart buy, and it boasts that top notch Swedish craftsmanship that knife enthusiasts love.
Benchmade Bushcrafter Knife
This is a serious bushcraft knife. This is designed for intense toolmaking and carving. No matter how large or how small the job is, the fine drop point on this blade will be able to handle it.
The blade is about 4 and a half inches long, and the knife is full tang. This knife isn't for rough work – it's for skilled precision artisanal quality work.
PROS
Comes with a full leather sheath equipped with a D ring, a strap, and a loop for a flint.
Titanium tubing runs through the tang of the knife. If you wanted to, you could use thin rope or cord to convert this knife into a spear.
High grade stainless steel blade won't rust, and is very easy to clean.
CONS
Handle is slightly contoured, and may not work ergonomically for people with small hands.
CONCLUSION
You aren't playing around. If you're looking for the top bushcraft knives, they don't get much better than this one.
You'll spend a pretty penny on it, but it will last long enough to become a family heirloom. You can whittle a flute, carve wooden roses, build a shelter, and skin a buck all with one knife. This knife was designed with paramount performance in mind, and it isn't going to let you down.
Morakniv Companion Fixed Blade Outdoor Knife
Morakniv is a brand known around the world for their quality and integrity. They make the best bushcraft knives, and they've been proving it for years.
This model is a standard 4.1 inch bushcraft blade, and the Swedish stainless steel will resist corrosion. The thickness of the edge makes it easy and safe to sharpen the blade as often as you need to.
PROS
Comes in a variety of different color. If you want a brightly colored knife that would be difficult to lose at your campsite, you'll appreciate being able to select a neon color that will stick out.
Comes with a matching plastic sheath that clips right onto your belt loops.
The size is optimum for shredding tinder, carving tools, and even scaling a fish. It's not too big to carry around, but it's not so small that it limits the possibilities.
CONS
Knife doesn't completely lock into the sheath. You may want to secure it strongly if you intend to carry the knife while climbing a long distance, and a repetitive climbing motion may cause the knife to shift.
CONCLUSION
This one is simple but it doesn't compromise in quality. It's easily the best bushcraft knife under 100 dollars. You'll find yourself constantly impressed with how much it can do.
This is the perfect companion to a main survival knife, and it's small enough to take along with you.
Condor Tool and Bushcraft Knife
This is the modern standard for a basic bushcraft knife. No thrills and no gimmicks – just exactly the quality you're looking for. If you just want a solid bushcraft knife you can use for projects like primitive toolmaking or woodcarving, this one fits the bill.
As far as standard issue models go, this is the best bushcraft knife for the money.
PROS
Hardwood handle gives an authentic feel in the hand.
The 5 inch blade is long enough to snap small branches off of a tree.
Comes with a high quality leather sheath that will last for years without ever wearing down the blade.
CONS
Condor knives are handmade, which sometimes makes them subject to small imperfections. These are never quality issues, but they may affect the appearance of the knife.
CONCLUSION
This is a gentleman's bushcraft knife. If you enjoy the traditional style of gentleman's knives, this one has your name written all over it. It's straight and to the point – a sharp, drop-tip powder coated blade with a classic handle.
You'll want to carve for hours just so you can appreciate its superior construction.
Tops Knives B.O.B. Brothers of Bushcraft Knife
Tops utilizes some interesting design features when they make their bushcraft knives. This one in particular appears similar to a tactical knife, but it functions like any decent bushcraft knife should.
The weight is balanced remarkably well, and the back of the knife features superior jimping for extra traction.
PROS
Comes with a fire starting rod that slides right into the sheath.
4 and a half inch blade length is perfect for accomplishing most tasks.
Handle is bound with canvas micarta for a great grip in any weather conditions.
CONS
Sheath is made of Kydex. While this is better than a nylon sheath, it won't hold up as well as a leather sheath with time.
CONCLUSION
This knife was designed by bushcraft experts, for bushcraft experts.
The height of the blade is slightly lower, making it easier to delicately carve and twirl most hardwoods. You'll be able to make perfect tinder and fillet a fish just moments later. It's the best bushcraft knife for the tech savvy pioneer.
Condor Tools & Knives Bushcraft Parang Machete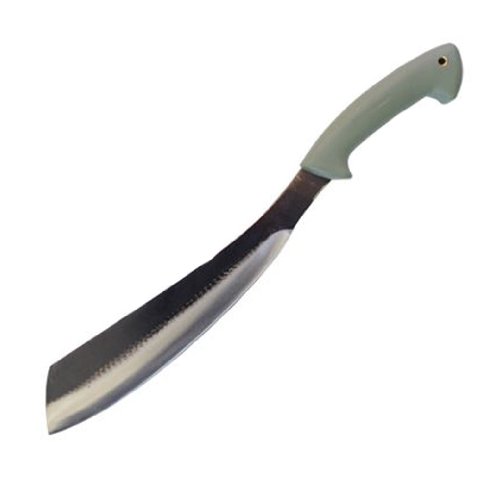 This is a bushcraft machete, which is different from your ordinary bushcraft knife. It's the difference that will make this particular tool appeal to so many people.
While bushcraft knives limit you in the amount of tasks you can perform due to the length and shape of the blade, this machete design kicks the door open to a wealth of new possibilities.
Near the base and close to the tip, it functions just like any bushcraft knife would. It's the middle of the blade where the magic happens.
PROS
The blade is an impressive 4.5 millimeters in thickness. You can practically take down a whole tree in a relatively short period of time.
Parang shape makes chopping motions easier. You can even carve larger surfaces at once to create thin sheets of wood.
Two and a half pound weight gives this bushcraft machete an impressive strike.
CONS
Sheath is made of nylon. This is a major con with most knives, as nylon sheaths don't hold up well with regular use.
CONCLUSION
It's a bushcraft machete, and you aren't going to find one of these very often. It gives you the best of both worlds, allowing you to do more with just one tool. While you may not be able to use it for very fine details, every gritty task is possible with the impressive size of this blade.
Even if you don't use this as your sole bushcraft knife, you'd be glad to have it in your arsenal.
Morakniv Bushcraft Carbon Tactical Knife
This is a bushcraft knife built to the standards of a tactical knife. It has all of the best qualities of a bushcraft knife, including the signature fine point, but the feel and shape of a military grade tool.
You're getting a 4.3 inch blade with a 3.2 millimeter thickness that works just as well as a survival tool as it does a hunting knife.
PROS
Spine of the blade also functions as a striking surface for starting a fire. If you ever find yourself without a fire starter, you'll appreciate this handy bonus.
Grip is coated in high friction rubber and ergonomically contoured.
Lightweight knife that's durable enough for batoning dry wood
CONS
This isn't a full tang knife, but because of the size, you aren't likely to encounter any issues.
CONCLUSION
Simple, compact, and durable. Just because this knife isn't fancy, that doesn't mean it won't deliver. If you have experience working with tactical knives and you're looking to get into bushcraft tools, you'll be surprised how easy this particular knife will make that transition.
It's slightly unconventional, but it still features all of the hallmarks you need for any bushcraft work.
Condor Tool & Knife Primitive Bush Knife
Primitive style bushcraft knives have become increasingly difficult to find. The original bushcraft knives featured an oval shaped blade that's gone out of style in recent years. This knife brings the old shape back.
If you've ever worked with an older bushcraft knife, you probably came to appreciate that shape and learned to use the curves to your advantage. This is the best bushcraft knife you'll find that still utilizes the old style.
PROS
Slight convex curve to the blade makes complicated carving tasks much easier than a straight edged knife would.
Full tang knife comes with a solid walnut handle, making this perfect for people who dislike the rubber or canvas handles on newer knives.
Comes with a custom fit leather sheath that perfectly hugs the blade. The sheath will last forever.
CONS
If you haven't already worked with rounded blades, the shape may take some getting used to.
CONCLUSION
You aren't going to find another old school bushcraft knife that fully lives up to its potential like this one does. If you're a sucker for the classics, this knife is everything you need.
It's based on the oldest style, but updated with modern capabilities and even better materials. It looks vintage, but delivers a cutting edge performance out in the field.
Which Bushcraft Knife is Right for You?
So, what is the best bushcraft knife? Everyone wants the best bushcraft knife, but there are so many excellent designs that are perfect for different things.
As long as you're considering all of the things you intend to do with the knife, you'll understand which designs and features will become your favorites through the bushcraft knives reviews.
There's nothing wrong with purchasing several and using them all for different things if you prefer a wide variety.