There are several important tasks you need to go over when field dressing game, and you want the right tools for the job if you want to be as efficient as possible and get the meat from the woods to the table as quickly as possible. If you're looking for the best knife for field dressing you have to address everything from price and ergonomics, to steel quality and durability, and there is no perfect balance of these elements.
Some people are going to prefer a cheap knife that can get the job done and is relatively sturdy, while others might want a razor edge that stays sharp almost forever, and don't mind putting in the extra effort it takes to sharpen a very hard knife edge.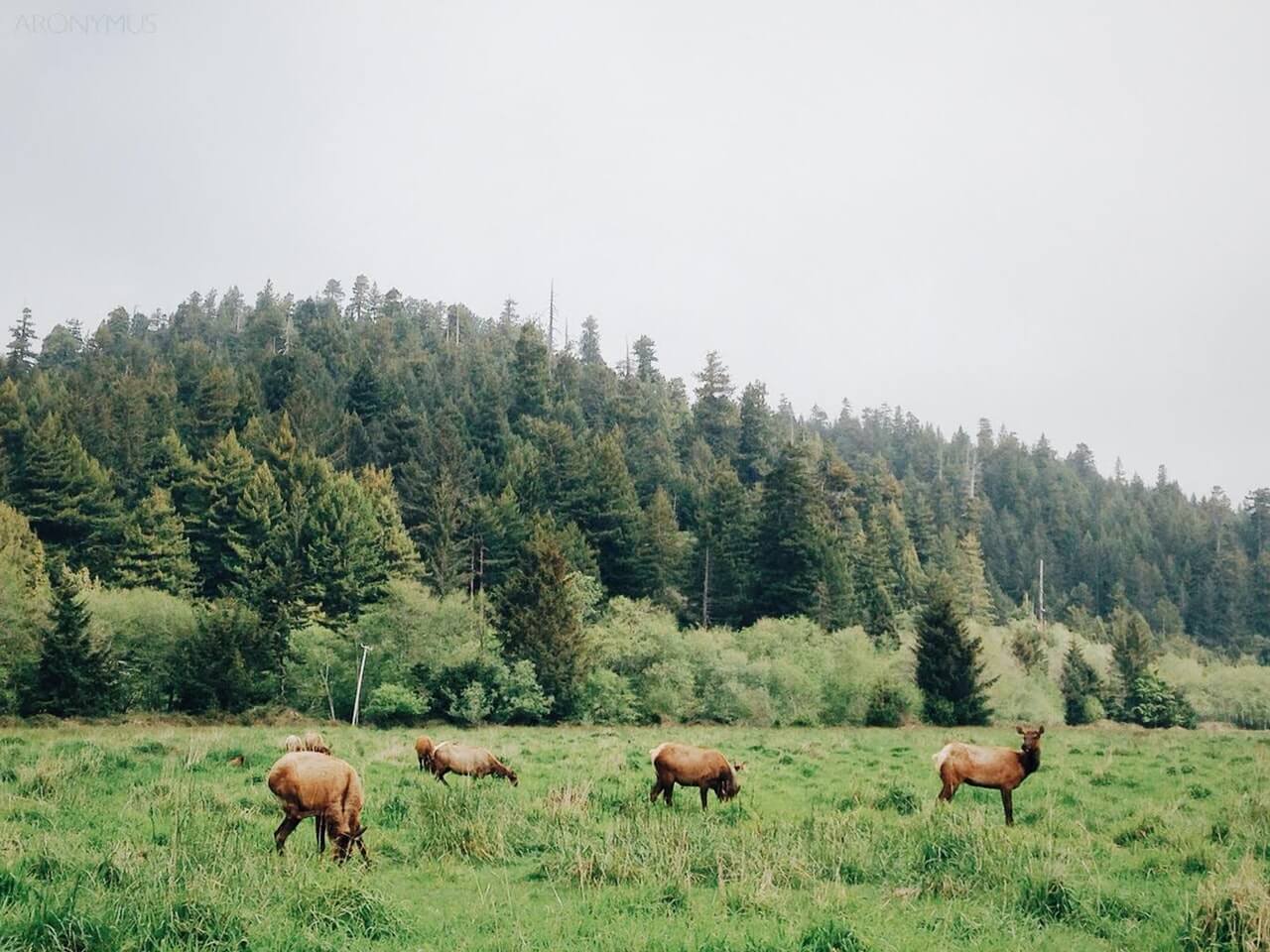 So, what's a good hunting knife?
Since the answer tends to be a little bit subjective, the following hunting knives reviews will cover a number of different options – from the really inexpensive options that can be easily replaced, to knives that require a bit of an investment, but will serve you a lifetime.
We have also broken down the list into skinning knives and somewhat larger options that work well for gutting and quartering. We suggest that you have both types of knife on you during a hunt, as it just makes life a whole lot easier, but if you're only looking for a single knife, go for a larger option – there are plenty of great all around options in the list below.
Without further ado, let's take a look at the top contenders for the best field dressing knife title.
Skinning
What you're usually looking for in a skinning knife is something that's small, comfortable in the hand, has a razor sharp edge, and doesn't have a very pronounced point that could puncture tissue and make a mess. With those criteria in mind, let's take a look at our top picks for the best knife for skinning deer and other game.
Opinel Number 8
This might not be what you first think of when someone mentions a skinning knife, but this inexpensive and sturdy little French folder is quite a capable tool. It can easily fit inside a pocket, weighs next to nothing and has a solid and unique locking system that Opinel knives are known for, and at $15 this knife is a steal.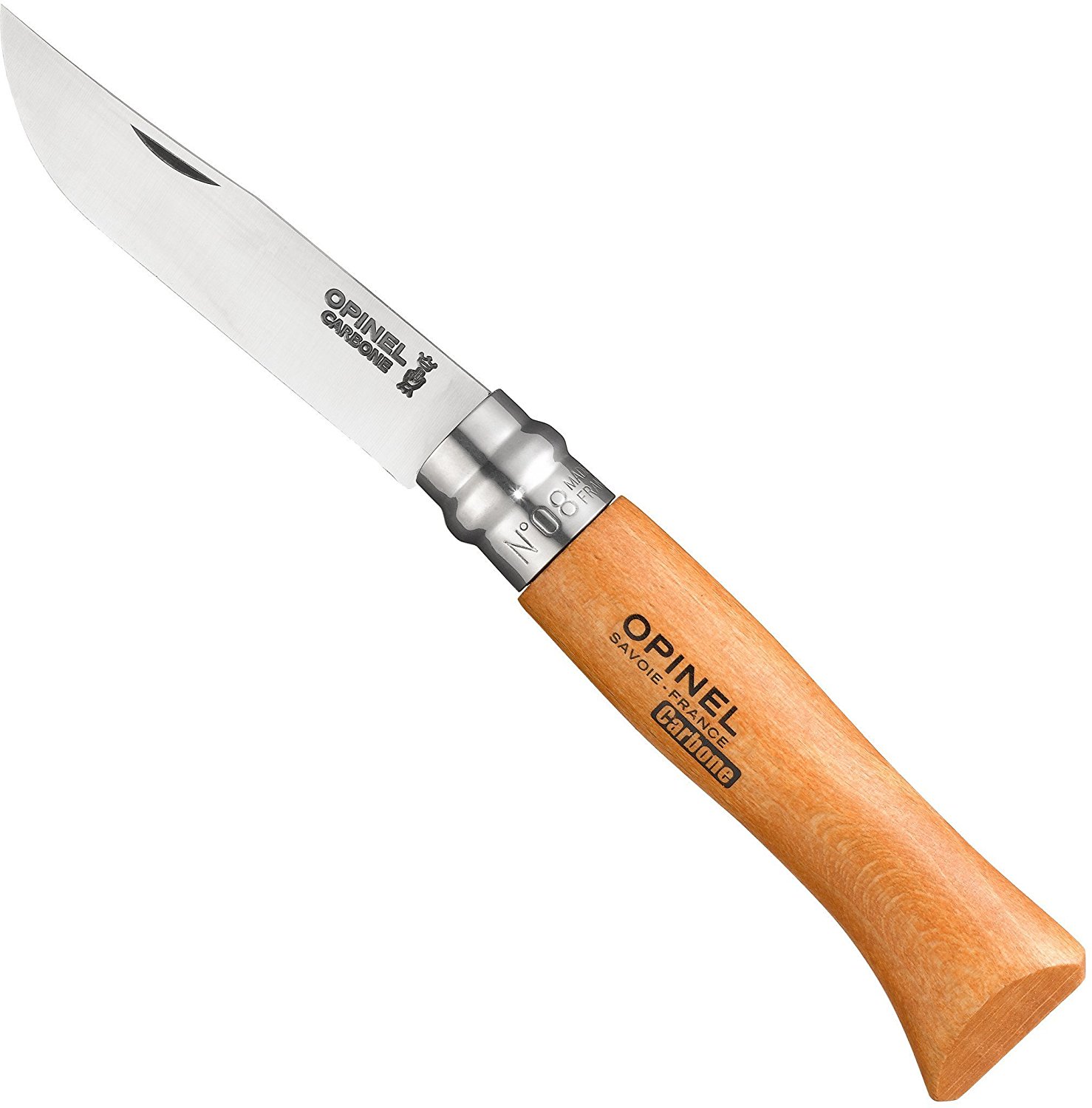 They use a properly hardened carbon steel, which allows the already thin blade to take a scary-sharp edge that won't dull quickly. The locking mechanism, although simple, is fairly sturdy and probably one of the safest options out there. Opinel Number 8 fits in the hand quite well, and the beech wood handle has a timeless aesthetic.
With a blade length of 3.35 inches it is well-suited to fine skinning tasks, and the point is not too fine. The stainless steel Viroblock lock makes it safe to use even for some tougher tasks, which is why we consider this to be a contender for the title of best field dressing knife, but we wouldn't advise you to try and cut through bone with it.
PROS:
Inexpensive
Light
Easy to carry
Keeps a decent edge
CONS:
It's thin and nowhere near as sturdy as a full tang knife
It doesn't have a sheath or pocket clip, so you might drop and lose it
Overall, this is a great little pocket knife that has stood the test of time, and it's something you can always have with you as a backup.
CRKT Folts Minimalist Bowie
When it comes to compact knives that are so easy to carry that you forget you have them on you, nothing beats a well-designed neck knife. The Folts Minimalist Bowie isn't the kind of knife that you could batton through ribs, but if you are looking for the best knife for skinning deer, you won't go wrong with this great little knife.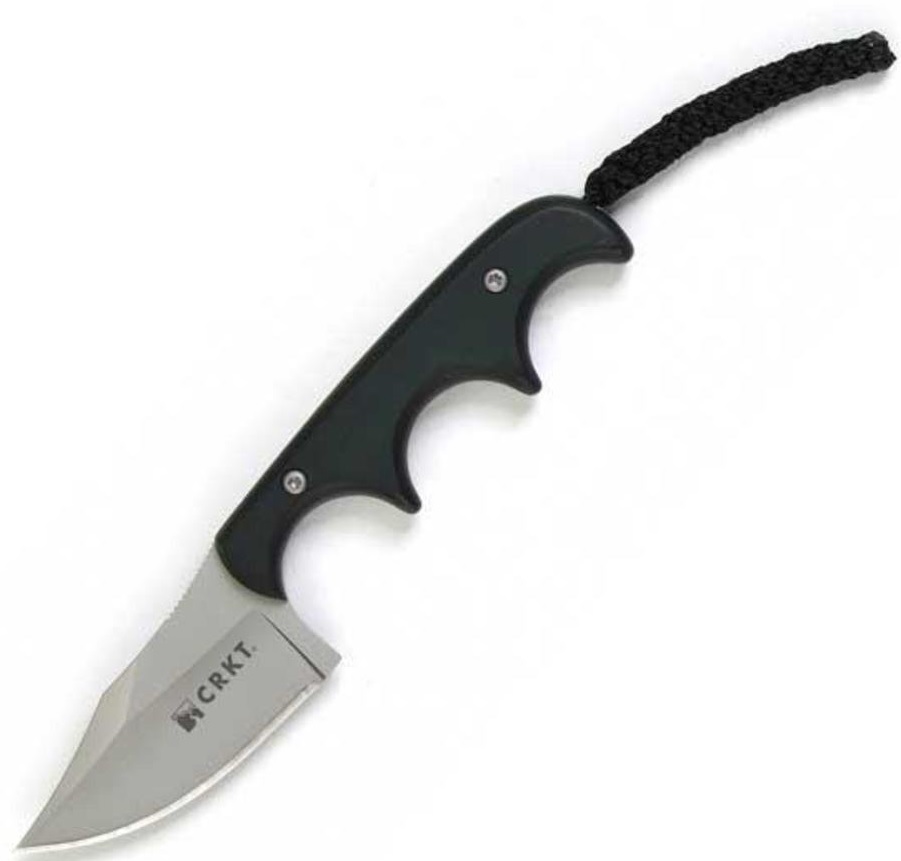 As the name suggests, the blade shape is like a shirt bowie blade, with an unsharpened swedge on the top, and a nice sweeping belly that makes it great for making long precise cuts. The handle of the knife is a little short and you can't fit all your fingers on it, but it does have finger grooves and a lanyard that your pinky finger can hold onto. It has all the features you would look for in the best field dressing knife that can fit in your breast pocket.
The steel they use is 5Cr15MoV, which is on the softer side with only 0.40-0.45% carbon and a hardness of 55 on the Rockwell C scale, but it can stay sharp for a while if you touch it it up every so often on a fine stone. However, at the low price of $25-$30, one can hardly complain.
PROS:
Incredibly light and compact
Easy to get into tight places
Great shape for fine cutting
Cheap
CONS:
It doesn't hold a sharp edge for very long
The handle is a bit too small
All in all, the CRKT Folts Minimalist Bowie is another great option if you want a small, light and inexpensive skinning knife that you can just out in your pocket and forget about.
Buck Knives 113
Definitely one our favorite Buck knives, the Buck 113 has a timeless elegance and a traditional skinner design with a short blade and a deep hollow grind. The walnut handle and brass bolster look really nice, and the simple leather sheath does a good job of keeping the knife securely at your side.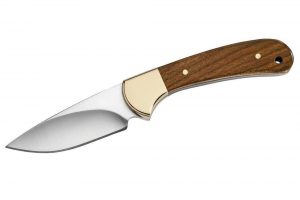 The knife fits the hand quite well, and it's quite comfortable to use, even for longer periods of time. The steel used for the blade is 420HC, a somewhat soft steel with 0.45% carbon, but Buck does a good job at heat treating their knives, so it can keep a decent edge for a while. However, it is quite a tough steel and can stand up to quite a bit of abuse, and the knife will only cost you about $50-$55, depending on where you buy it.
PROS:
Classic, proven design
Sturdy full tang construction
Good performance for the price
Really sharp right out of the box
CONS:
The edge needs some touching up to stay really sharp
It can rust more readily than knives with better stainless steels
The Buck 113 is both a beautiful and highly practical skinning knife, and it will last you a lifetime with a bit of maintenance. The softer and more rust prone steel is its only major drawback, but it is quite easy to re-sharpen and it's still great value for the money. This is probably the best buck knife for field dressing.
Benchmade Hidden Canyon Hunter
An incredibly capable knife in a compact package, the Hidden Canyon Hunter is a thing of beauty. The knife features a classic skinner blade design, with jimping on the back of the blade to give you a secure grip when performing more precise cuts. As always, Benchmade uses a premium steel, CPM S30V that can go through an entire deer without needing to be resharpened, making it a good deer hunting knife that everyone should have with them.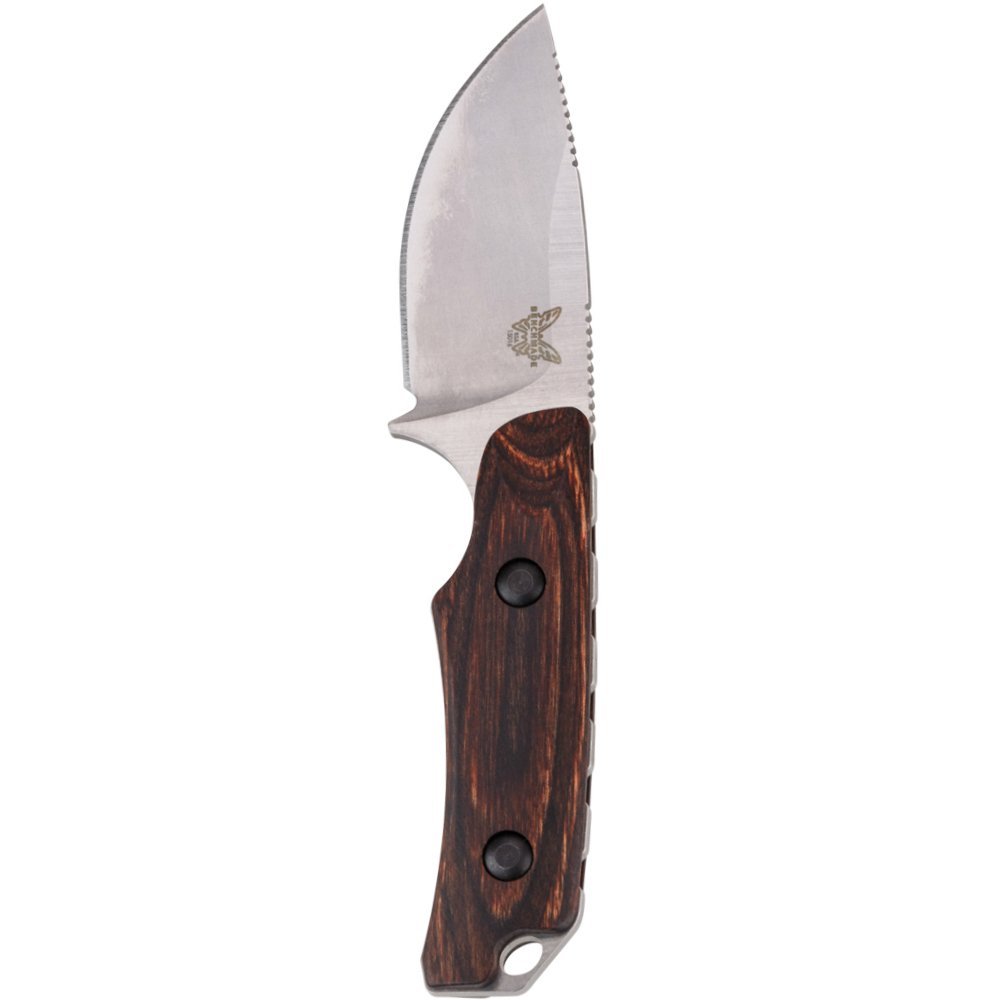 The handle is highly ergonomic and feels quite comfortable, and there is a small lanyard hole on the butt, so that you can strap the knife to your hand and ensure that you don't lose it. The knife comes with either a sturdy leather sheath made for horizontal belt carry, for the stabilized wood handle version, and a kydex sheath for the G10 handle version.
With a price of around $115 it offers great value.
PROS:
Very comfortable to use
Extremely sharp and holds an edge well
Beautiful design
Sturdy sheath
Good value for the money
CONS:
The sheath only facilitates horizontal carry
It is difficult to sharpen in the field
You really can't go wrong with the Benchmade Hidden Canyon Hunter, although it would be nice to see a different sheath model offered, and the CPM S30V steel can be difficult to sharpen, so keep that in mind if you are going on a longer hunting trip.
Bark River Mini Canadian
Now, Bark river offers some truly awesome knives, and they are what you would call a "semi-custom" knife company, which means that you can choose different handle scales, steels and features for each of the models they offer. However, there are tons of models that work just fine as-is, and the Mini Canadian is an excellent skinner design for anyone with a little higher budget.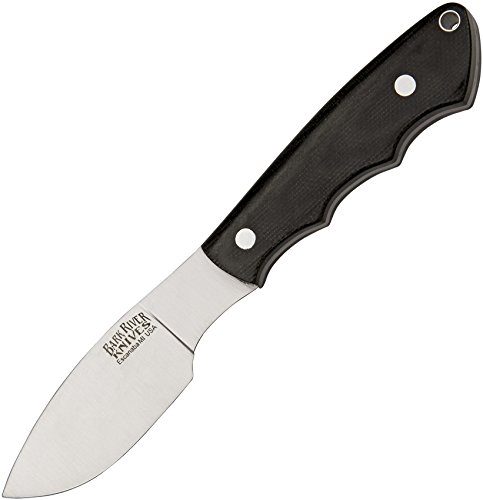 With a 2.2 inch fully flat ground blade and an highly ergonomic handle, this knife is a pleasure to use, and might very well be the best knife for skinning deer, at least in the under $150 price range. The A2 steel used in the blade, hardened at HRC 58, can hold a great edge and stay sharp for quite a bit, but it is not difficult to re-sharpen.
It's a excellent design for skinning tasks, with a drop point and some belly to the blade, and is quite solid and easy to carry around due its small size.
PROS:
High quality materials
Great blade design
Ergonomic handle
Stays sharp for quite a while
CONS:
A bit on the expensive side
The Mini Canadian is a superb knife, works well for skinning, and is compact and light, but the price might deter some people. That being said, it is not unreasonably priced, given the quality craftsmanship and materials – definitely go for it if your budget permits.
Gutting and Quartering
This is the part where a slightly larger and thicker blade is needed to go through bone, sinew, muscle and hide. When looking for the best knife for field dressing deer, you should consider one of the following options.
Buck Knives 119
A classic design that many of you are already familiar with, the Buck 119 has definitely stood the test of time and proven itself as a great budget-friendly hunting knife. Due to its size and the fairly tough, albeit somewhat soft steel used for the blade, the 119 can be battened through bones and used for a variety of more demanding tasks. The best thing is that you get a quite comfortable and capable knife for around $55-$60, making one of the best hunting knives for deer and larger game for hunters on a budget.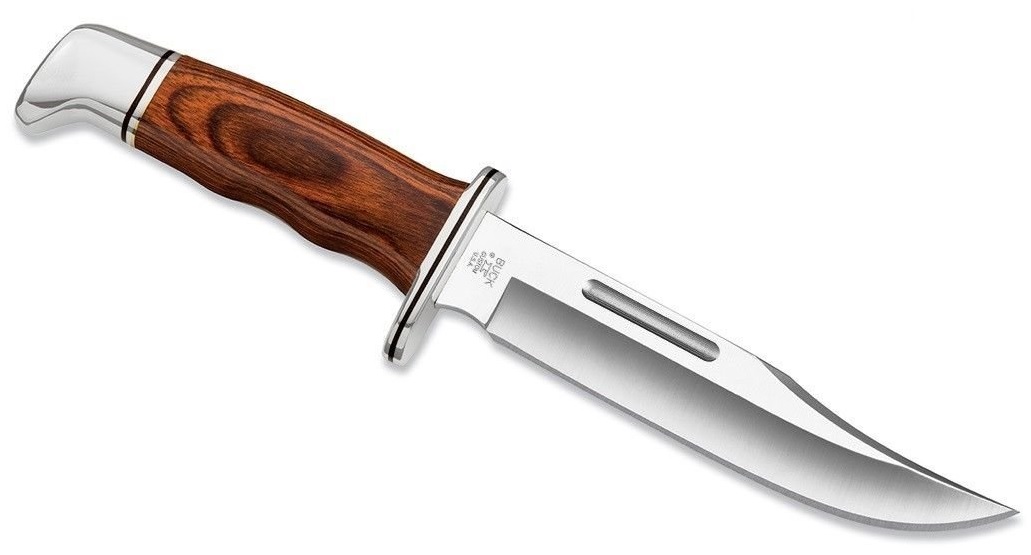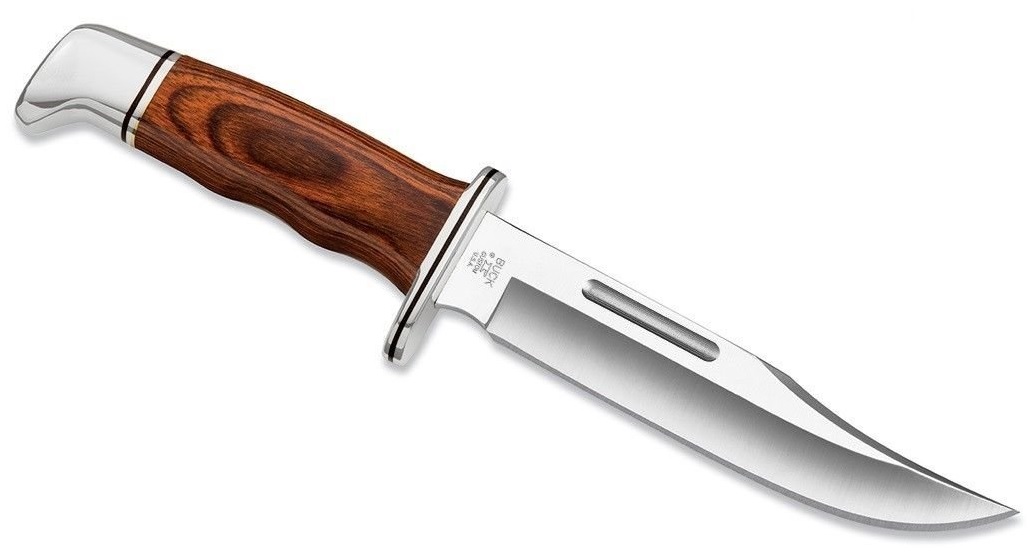 The 420HC is not that great of a steel, as we've mentioned before, but it gets the job done and will serve you well for years with a little bit of maintenance. The construction is quite solid, and the knife looks quite nice as well, especially now that they are offering the special 75 year anniversary edition.
PROS:
Sturdy and dependable
Cheap
Can handle tougher tasks
Comes shaving sharp right out of the box
CONS:
Gets dull relatively quickly
The point is too aggressive, so you have to be careful not to puncture internal organs
This is a good deer hunting knife and can also be used for a variety of small tasks around a campsite, which makes it a worthy companion for every serious hunter. The sharp point makes it less suitable for skinning tasks, so it is best paired with a dedicated skinner, like the Buck 113.
Cold Steel Master Hunter
The Cold Steel Master Hunter has been around for a while and has proven itself as a top contender for the best field dressing knife spot. It comes in two different steel options – VG1 San Mai III and CPM 3-V – and both can hold a wickedly sharp edge for quite a long time.

The Master Hunter is a bit more expensive than some of the previous entries on this list, at around $85-$95 for the San Mai III version depending on the retailer, but the jump in quality is immense. It has a more streamlined look, with a simple overmold textured rubber handle and a sturdy plastic sheath, but its 4.5 inch full flat ground blade is more than capable of handling any field dressing task you throw at it.
There is a version with a gut hook, but a lot of people find that it interferes with finer cutting tasks, so we would recommend the regular model without the gut hook.
PROS:
Great sharpness and edge retention
Sturdy and comfortable design
Proven track record
CONS:
Looks quite plain and dull
The rubber handle can get a bit uncomfortable after prolonged use
There's not really much bad to say about this knife, as the Master Hunter performs incredibly well and at a reasonable price to boot, which is why many consider it to be the best deer gutting knife out there.
Benchmade Steep Mountain Hunter
For anyone who knows a thing or two about knives, the name Benchmade is synonymous with quality craftsmanship and fair prices. Sure, some of their knives can be expensive, but steep Steep Mountain Hunter can be had for around $100, maybe a little less if you shop around, which makes it  good mid-range option.
Considering the fact that the blade is CPM S30V and that it can take on plenty of field dressing tasks without any need for re-sharpening or stropping, this is quite a good price. It has a deep hollow grind, making for a wickedly sharp edge, and a sturdy handle that fits most hands quite well, which is why you'll find it in the top ten choices in most hunting knife reviews.
PROS:
Excellent price-to-quality ratio
Really sharp and holds an edge well
Highly rust resistant
CONS:
The handle features quite simple rubber grips
The kydex sheath can be a bit loose
Being one of the cheapest knives Benchmade offers, the Steep Mountain Hunter offers plenty of quality and functionality for the price, and it's safe to say that you would not be disappointed by it. However, they had to cut costs somewhere, so the kydex sheath leaves a lot to be desired and the rubber handle design is not the greatest.
Morakniv Garberg Knife
Morakniv is well known for making extremely cheap knives that perform quite well, even on the level on some knives that are 3-4 times as expensive. However, Mora does make some more expensive models. The Garberg knife is subjected to the same kind of expert heat treatment and rigorous quality control that Mora knives are known for, but there are some notable differences.
The Gerberg uses a higher quality steel, its blade has a bit more thickness to it, and the construction is full tang. Since the 14C28N Sandvik steel has 0.62% carbon, it can have a higher hardness, which means that it can be made quite sharp, which is quite an easy task with the scandi grind Mora puts on it, and will hold an edge quite well. It comes with a decent plastic sheath, but you can pay a bit extra and get the slightly better leather sheath.
You can find the Garberg for around $90-$100, but the knife is virtually indestructible and you'll hardly find something as versatile and tough for the price. It can double as a bushcraft knife, but it fits the role of the best field dressing knife perfectly.
PROS:
Ergonomic and comfortable
High quality materials and construction
Proven design that stood the test of time
It holds an edge well and is easy to re-sharpen
CONS:
The leather sheath costs extra
People with larger hands might find the handle a bit small
The Garberg is what you get when a company that is known for offering great quality at a low price increases its knifemaking budget tenfold, and the results are quite impressive. It is a good all around knife to have by your side out in the field.
Helle Taiga
A great option for the more traditional hunter with a penchant for old school knife designs, the Helle Taiga packs a lot of functionality in an aesthetically pleasing package. As you would expect from a Norwegian hunting knife company, the fit and finish are are absolutely sublime, with the look and feel of old Scandinavian blades that were used for centuries in that part of the world.
The Taiga features a lovely ergonomic birchwood handle, shiny 4.9 inch  triple laminated steel blade, and a sturdy traditional leather sheath that fits the knife like a glove. Helle puts a great sharp edge on the knife and the scandi grind is a pleasure to re-sharpen. The edge retention is excellent, though not quite as good as some of the CPM S30V knives on this list, and you won't have any trouble holding onto the handle even after an hour of hard use.
You can find this knife for around $125-$130, which makes it the most expensive option on the list, but you are paying for aesthetics as well as quality here.
PROS:
Beautiful traditional design
Easy to sharpen and holds an edge well
Ergonomic and comfortable grip
High quality leather sheath
CONS:
The sharp point means you'll have to be a bit more careful when gutting
A bit pricey for the performance it offers
Anyone looking for a traditional hunting knife that performs quite well, looks good and feels comfortable will love this knife, but not everyone will want to spend the extra money, as a lot of people are quite happy to go with a rubberized handle and simple sheath if it means saving $30-$40 on their purchase.
Conclusion
There are a number of things that you have to consider before deciding on the best field dressing knife for you. Luckily, we have provided a lot of different options in terms of size, use, shape and price range, so there is something for everyone on this list.
You should go over all these knife reviews a couple of times before choosing your ideal hunting knife, but you can rest assured that all of the options listed above are more than capable of getting the job done.
As we've said before, it's best to have a smaller knife for skinning and a larger one for gutting and quartering game, but several knives from our list can still act as a jack of all trades, so the choice is up to you.