If you're looking for the best machete, finding it could be difficult. If you don't understand the differences in blade styles and exactly what they're used for, you could feel lost rather quickly.
The first step to researching your purchase is understanding what the best machetes are made of.
Our Top Best Machetes
The Best Machete Brands
There are tons of machete manufacturers. Ontario, SOG, Gerber, Tramotina, Schrade, Ka-Bar, Kershaw, and Columbia River knife make the best quality machetes you'll be able to find.
Cheap imitation machetes are often made of lesser quality materials. These will chip, rust, or even split in half over time. It's worth spending a few extra dollars for a machete you know will last you a lifetime.
The 10 Best Machete Reviews
Every machete has different attributes. It's time to find which attributes will work best for you. These machete reviews will help you do that.
Cold Steel Gladius Machete
This is the best machete for people who appreciate aesthetics. Its unique design tapers in, flutes back out, and comes to a perfect point. Despite its delicate appearance, you can use this machete for real tasks.
Though the design is more for showmanship, the blade won't let you down.
PROS
Handle features a ball shaped pommel, which is rarely used in the production of modern machetes. This ball is favored by people who treat wielding a machete as an art form, due to the stability it provides when flipping the knife.
The handle is coated in polypropylene plastic that's been rated for high impact. It can't rust, snap, or splinter.
Blade is made of 1055 carbon and coated with a rust repellent finish. Between the blade and the handle, it's safe to leave this machete outside or use it in wet weather.
CONS
No serrated edges for sawing.
CONCLUSION
This is an excellent machete for fine work. It's great for delicate cuts, especially if you're practicing fine details with a machete. It will work well for machete tricks and other acts of showmanship.
This is the best survival machete that money can buy. You can cut rope and trees with equal accuracy. This is a machete you'll want to keep in your pack for camping, hunting, hiking, or fishing trips.
This is powerful, and it's a high quality machete you'll be proud to own.
PROS
Sawback on this blade makes it the best machete for clearing brush.
Flat end blade is ten inches long. This gives the machete great weight and an excellent range.
Blunt, flap tip can be used to score, pry, or hammer. This makes the machete a multifunctional tool.
CONS
Higher quality usually comes at a higher price point, though you always get what you pay for.
CONCLUSION
This is the ultimate machete. You'd never want to be lost in the woods without it. You can do so much with this one knife, and because it's made of 1095 carbon steel, it's almost impossible to break it.
This is a serious tool for serious machete enthusiasts.
This machete features a classic woodsman's shape. It's much wider toward the point, and that shape is designed to give it a high ranged balanced swing.
This is a machete you'll appreciate when you're working in the back yard and you need to trim something you can't get with a lawn mower or a weed whacker.
PROS
Sawback features deep serrations, allowing you to cut with force rather than a sawing motion.
Comes in an 18 inch length, allowing you to stand back further away from whatever it is you're trying to hack through.
The combination of the length and shape of this machete makes it ideal for harvesting crops – it can even handle corn stalks.
CONS
Long length makes it difficult to use for up-close tasks or fine detail work.
CONCLUSION
This is the perfect machete for people who need to do a lot of chopping on a regular basis. If you have a small farm or a large garden, you'll appreciate having this handy.
It will also work great for intensive landscaping, particularly if you need to cut a lot of low hanging branches.
Gerber is one of the best machete brands, and that's because they're known for their ability to make a high quality machete.
Gerber are knife experts, and this is their most popular model of machete. People love the versatility of this machete, as well as some of its unique design aspects.
PROS
Textured rubber grip is designed for maximum stability. Fits snugly in the palm of the hand.
Blade has two full surfaces – a traditional blade, and a deep serrated edge. It comes to a sharp point, allowing you to easily alternate between both surfaces in one pass.
The knife itself is black, but the point is etched out and left as plain steel. This helps you see the cutting surface and determine your depth.
CONS
Blade is soft. If you neglect maintenance and regular sharpening, you can damage the sharpened side.
CONCLUSION
Gerber machetes are excellent quality for the money. These are designed to look and perform like much more expensive machetes without breaking the bank.
It's not just a value buy – it's worth every penny. These are made to last.
Tramontina Machete Wood Handle

This is a classically designed wood handled machete. Though the technology used to make plastics durable has gotten much better over the years, some people simply prefer the look and feel of traditional wood and steel machetes.
PROS
The blade is 18 inches long, which is the ideal length for long swings.
Made in Brazil. Brazil is known for producing high quality knives and tools.
Natural hardwood handle can't warp or dent like a plastic handle.
CONS
This machete only has a sharp edge – there are no serrations.
CONCLUSION
This is the best machete for people who love the classic aesthetic. It's a gentleman's tool, made for someone who wants to get the job done in style.
If you want a nice machete for special occasions, this will look great on display and deliver a powerful performance when you need to use it.
Condor Tool and Knife 14-Inch Golok Machete
You'll often hear that a hook shaped machete is the best machete for clearing brush. In truth, the shape of this machete does make it perfect for delicate work.
Condor makes the best machete, as far as curved machetes go. The blade is full tang for maximum durability.
PROS
Great for cutting bushes or trees. Branches and twigs get swooped up in the curves of the blade.
Comes with a durable full-leather sheath to keep it safe when not in use.
Hardwood handle offers an ergonomic grip.
CONS
Lack of serrated edge means you can't use this machete for sawing.
CONCLUSION
You can make very quick cuts with this machete, making it excellent for doing quick work.
If you want to get the job done and still have some time to spare, you'll love how easy this machete makes it to get things done.
Schrade SCHKM1 Large Full Tang Kukri Machete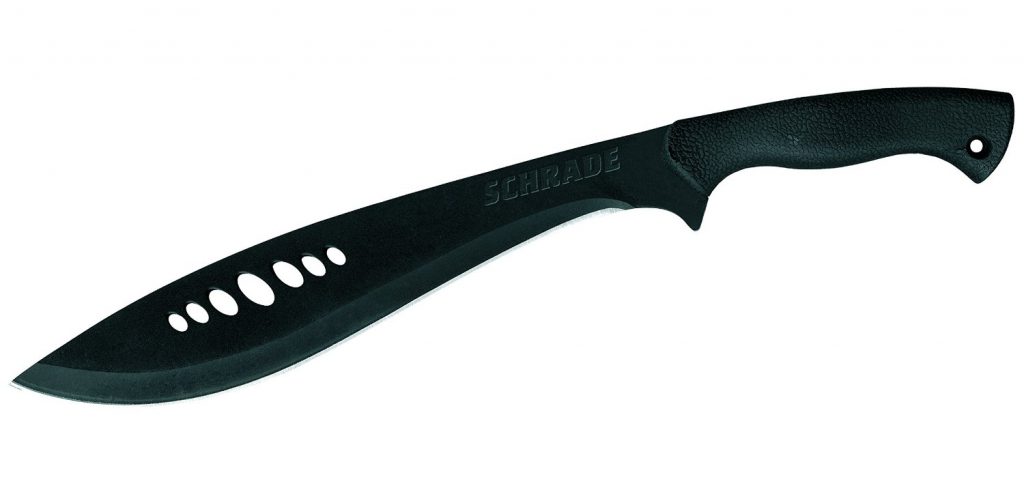 In our opinion, there had to be one best kukri machete on this list of reviews. Well, here it is!
This may be considered as the best kukri machete, especially for the price. Schrade makes some solid machetes.
This particular model has large vent holes to assist its aerodynamics. The blade itself is 13 inches long, making it large enough to be useful but compact enough to be portable.
PROS
Comes with a nylon shoulder sheath that features additional storage pocket. This makes it the best survival machete. You can carry a fire starter or a portable knife sharpener right in the sheath.
Handle has a very tough powder coating to make for a great grip.
Machete weighs less than 2 pounds. It's easy to carry, but it has enough weight to give a good swing.
CONS
Tip is thin. Make sure you aren't swinging with the tip, as you can damage it.
CONCLUSION
This really is the best survival machete when you consider the way it's configured. It's designed to work with a camping or hunting bag, and the pockets in the custom sheath will come in handy when you need to carry extra things around with you.
It's also the best kukri machete you can get without emptying your wallet.
Ka-Bar Black Cutlass Machete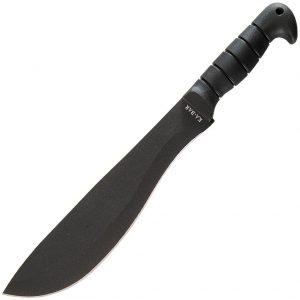 This machete is a camper's dream. The blade is shaped like a cutlass, which is a traditional pirate's sword. Though it's shorter than a pirate's sword, you'll feel just as empowered using it.
This machete is designed for campsite tasks, like clearing. It's also good at hacking weeds or trimming branches.
PROS
The thermoplastic handle is ergonomically shaped, designed to fit perfectly in your hand.
11 inch blade is perfect for doing close up work. It also allows you to concentrate force, making powerful cuts in fewer passes.
Comes with a durable sheath made of leather and Condura. You'll be able to use it forever.
CONS
Blade doesn't have a long reach.
CONCLUSION
This is a compact camp machete. You'll love how much space it saves you. It's so easy to take with you, and you can use it to do almost anything.
It may be small in size, but it's large in power. This is exactly what you need to make your next camping trip a success.
Kershaw Machete/Camp Knife
This is a versatile full tang machete that will come in handy more than you might expect. You can slash, hack, and split with this machete. The fine edge even makes it useful for scraping.
The handle feature a prominent hand guard for your safety, and the rubber coated handle grip sits comfortably and securely in your palm.
PROS
Comes in three sizes – 10 inches, 14 inches, and 18 inches. It's easy to pick the size that will suit your needs. If you don't want a small machete, just go for the larger model. If you don't want to tote around a huge machete, go for the smaller one.
Tapered cutting surface is very large, making it easy to split wood or hack through large logs.
Designed to function like a highly powerful sword. It's more than just a machete.
CONS
Large cutting surface makes the tip slightly weaker. You'll need to be careful not to abuse the tip.
CONCLUSION
This is the best machete for people who want something customized to them. If you love the style of this machete, you can purchase it in whatever size you want. A lot of people are very particular about the length they want.
With this machete, you can get the knife you want at the size you need.

The shape of this machete is exactly what makes it so special. The end is similar to a cleaver in shape, giving you more chopping power than most machetes can offer.
This is a full tang machete than can cut a log into slices as thin as dinner plates.
PROS
Drop point blade is extremely versatile. You can fillet a fish with this machete.
Comes with a custom shaped sheath. You won't have to find a separate sheath to work with the uniquely shaped blade.
CONS
The shape of the blade doesn't allow for any serrations or saw edges.
CONCLUSION
If you can't decide whether you want a machete, a cleaver, or a hatchet, this is the best machete for you.
It's a multifunctional tool that offers you the best aspects of a bunch of other tools. You're only getting the greatest features.
Which Machete Should You Choose?
The best machete is different for everyone, as you can probably tell after reading the best machetes reviews. Consider where and how you want to use your machete, and the answer will become clear.
There's no reason you can't buy several machetes to add to your collection. You can't go wrong when you buy from the best machete brands.