When most people talk about choosing a good all-purpose knife to have around a campsite or out on the hunt, what they really mean is something that offers adequate performance at a fairly low price. Not everyone is looking for a $200-$300 premium tool steel knife or a $500 custom piece – for the more practically minded and frugal folks it's all about getting the job done. And this is exactly where Buck knives come in.
The Buck 119 is now celebrating its 75th birthday, and the design harkens back to a simpler time – with a narrower Bowie-style blade and a traditional-looking handle with metal fittings, it looks like something straight out of the Wild West frontier. It's this classic look, with a few modern refinements, that make the Buck 119 so appealing to the eye, but how does it actually stand up to the type of hard use it's likely to see in the field?
Well, let's take a closer look, shall we.Price and Aesthetics
The Buck 119 Special comes in two versions:
Black phenolic handle with aluminum guard and pommel featuring micarta spacers
Wood handle with brass guard and pommel featuring micarta spacers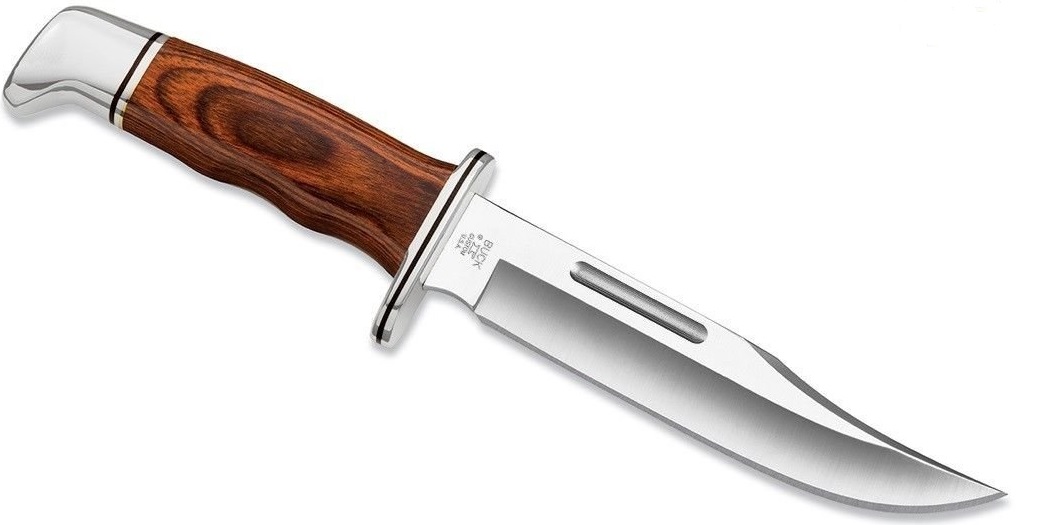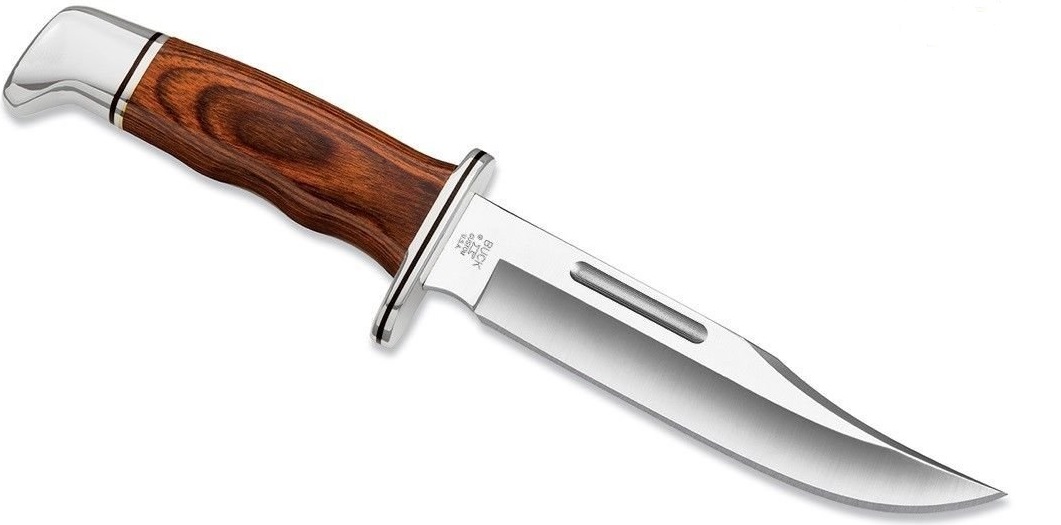 As of the time of this writing, the MSRP for the regular black-handled version is $96 and the more traditional wood-handled version is $136, however, you can easily find them for around $50-$60 and $75-$80 respectively on Amazon. You can even find some older, more basic versions with nylon sheaths in places like Wal-Mart for a few bucks less.
This is a good price for a sturdy hidden tang knife, where the tang goes all the way through the handle, especially when we are talking about a 6 inch blade and a nice leather sheath as an accessory. But what kind of quality do you get for the price?
Let's look at some of the main features of the Buck 119 and see how it holds up.
Blade steel
Buck has a long tradition of using 420HC steel in its knives. Now, this is definitely not the best steel around, but it is not to be confused with regular 420, which has a lot less carbon and is, thus, incredibly soft.
The HC part of the name stands for high carbon, and this version contains 0.45% carbon, as opposed to the meager 0.15% carbon in the regular 420. This means that 420HC blades can have a significantly greater hardness, which allows the knife to be sharpened to a finer edge and stay sharp for longer.
Buck does a good job of heat treating their knives, so the blade of the Buck 119 is quite tough, will flex rather than break on hard impact, can be shaving sharp and holds an edge for a while, a slong as you strop it between uses and touch it up a bit on a finer grit stone from time to time. However, this steel is cheap and easy to work, so you get decent performance at a fairly low price.
Build quality
Buck knives seem to have good quality control, as I have yet to see a Buck 119 that comes out of the box with loose fittings. The aluminum guard and pommel fit quite well on the handle, and the whole thing feels solid and sturdy in the hand.
Thanks to the tough steel, the tang that goes all the way through and the properly fitted handle, this knife can take some abuse and keep soldiering on, but more on that a little later. It's safe to say that this knife will last for years, even decades, as long as you take care of it and don't try to chop down trees with it.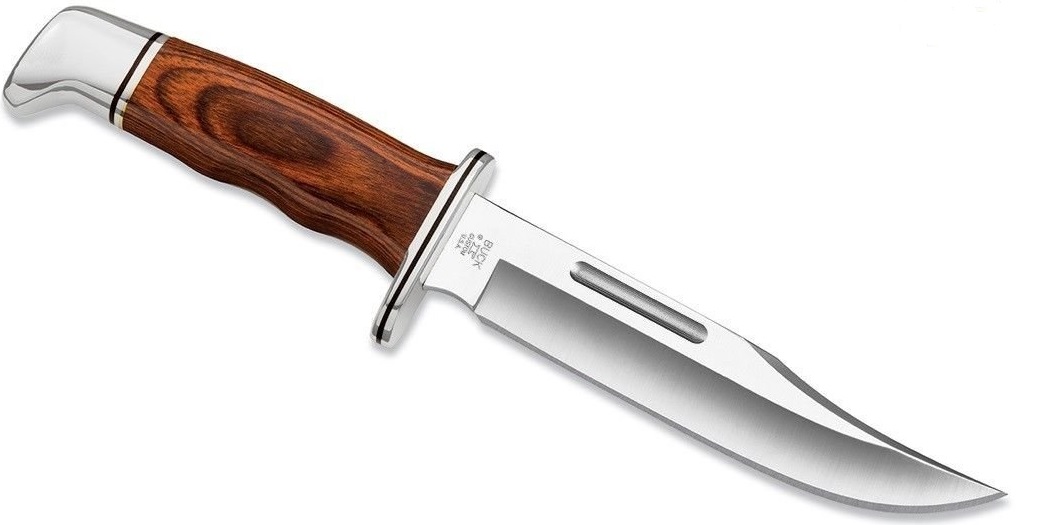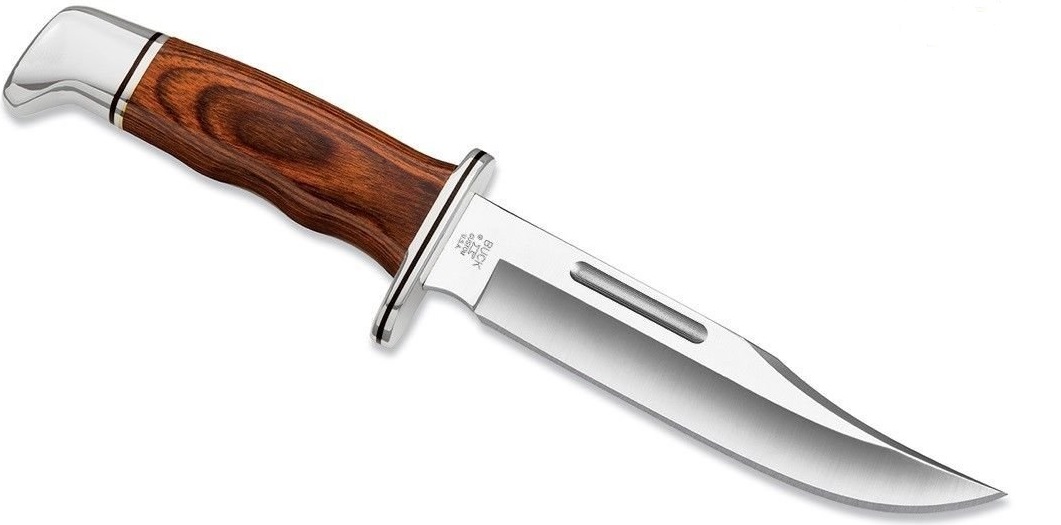 Fit and finish
Despite being on the cheaper side, the Buck 119 actually looks quite nice. The handle is flattened on the side, and the edges of both the handle, guard, and pommel are all rounded, so you won't find anything digging into your hand uncomfortably as you use the knife. The blade has a nice satin finish and all the markings are clear.
On the the latest anniversary edition, you'll also find a small round metal plate with the classic Buck 119 knife silhouette, with "1945-2017" over and "75 Years" under it, which is a nice little touch for all the collectors and Buck fans out there.
A minor nitpick I have is that the fuller – I wish people would just stop calling it a "blood groove" already – was milled out and not finished properly. It really stands out from the satin finish of the rest of the blade and there is a big old scratch right in the middle of it.
The Overall Shape and Ergonomics
I actually like the classic clip point shape a lot, as it is a versatile design that can help you deal with a ton of different tasks. The handle is fairly ergonomic as well, and the rounded edges really make it comfortable to use.
There's a slight curviness to the front of the handle, like shallow finger grooves, and the butt is angled forward, which helps keep the knife firmly in the hand. The finger guard sticks out just enough to keep your hand from sleeping onto the blade, and it doesn't really get in the way.
As I've said, it really does feel good in the hand, and can be used in any grip.
Intended Use and Performance
While some people might say that they like it as a skinning knife, I'd say that the blade shape and overall length is not ideal for that purpose, although it definitely has its place as a tool for processing game. I would suggest that you combine it with a smaller skinning knife, designed specifically for that purpose, and use the Buck 119 to cut through the meat and bone when quartering animals.
Since the 440HC steel is quite tough and the blade has a decent length, you can also use this knife to baton through wood when you need to start a fire. The sharp 90 degree angle on the spine of the blade is also excellent for throwing sparks when using a firesteel.
The knife will start to dull relatively quickly if you use it to carve wood, e.g. if you're making tent pegs or traps, but since it is insanely easy to sharpen, you'll only need to make a few passes over a stone and strop the blade to get it shaving sharp again. Even if you are not really careful and put the knife through a bit of abuse, the Buck 119 can take it and keep on performing, a trait you won't often find on knives in this price range.
The ability to customize
If you don't mind spending a few more bucks to get a customized version of the Buck 119, with a different blade finish, handle material and even a better blade steel, you can look at Buck's website, but be careful, as the price quickly jumps to $150 or even $200 as you add on a few of the more premium options.
Pros and Cons
Now that we have covered all the different details about this knife, let's look at a brief overview of the pros and cons to get a clear picture of its true value.
PROS:
Highly functional traditional design
Comfortable handle that offers a firm grip
Inexpensive
Sturdy construction
Tough and durable blade
CONS:
The softer steel doesn't hold a sharp edge for too long
It's a bit heavy
It can rust if you don't take care of it
The plastic handle is prone to scratches and nicks
It is a decent knife overall, a true workhorse that can take a beating, and the low price makes it affordable even for people on a tight budget.
Final verdict
Overall, the Buck 119 is a well-designed, sturdily built knife that uses a decent steel, and is really one of the most cost-effective options at this price range. It has that great classic look that's been featured in a number of movies and TV shows over the years, and it is a true workhorse that can take on most tasks around a campsite.