If you're new to pocket knives or just unsure of which would be the best pocket knife, it can be hard to tell the difference between styles.
Pocket knives come in a variety of designs, and some of them come stocked with bonus features that turn them into multifunctional tools.
When you're deciding on a pocket knife, it's important to consider exactly what you need it for. The best pocket knives are the ones that will help you get the job done.
Our Top Best Pocket Knife
| Picture | Pocket Knife | Review |
| --- | --- | --- |
| | Kershaw 1605CKTST Clash Folding Knife | Our Review |
| | Mtech Rescue Modified Tanto Black Pocket Knife | Our Review |
| | TAC Force TF-469 Gentleman's Assisted Folding Knife | Our Review |
| | Victorinox Swiss Army Classic SD Pocket Knife | Our Review |
| | Gerber Paraframe Mini Knife | Our Review |
How to Look for the Best Pocket Knives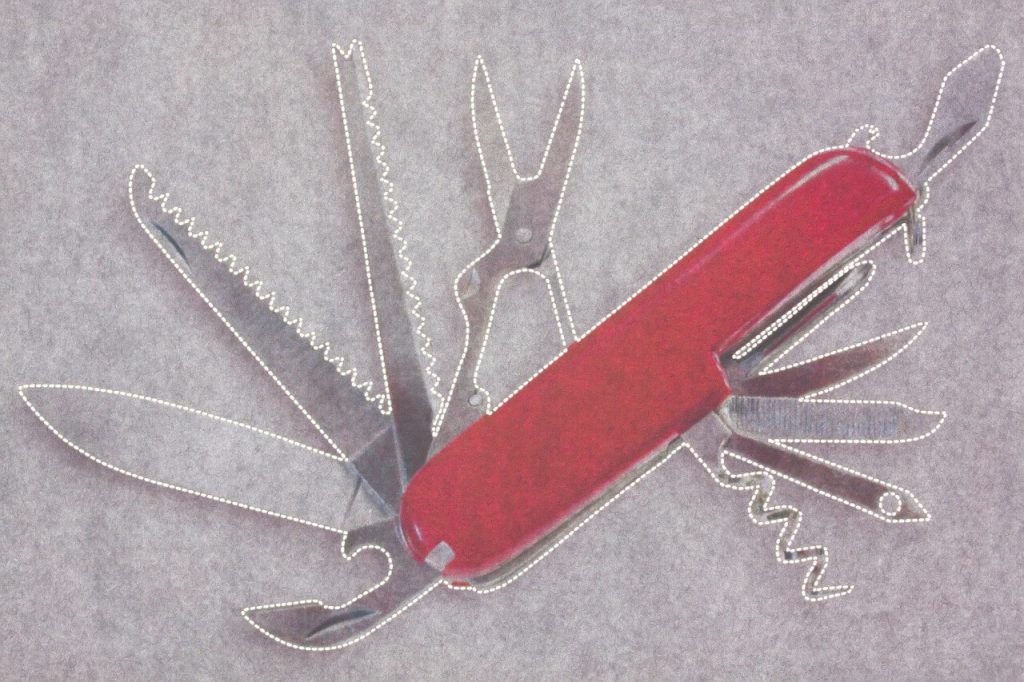 What is the best pocket knife? That's a question that's not always simple to answer.
Standard pocket knives are an important staple for anyone on the go. Having an accessible tool you can use when you need a little extra help, or even keeping a pocket knife as an emergency line of self-defense is something everyone can benefit from.
When selecting your pocket knife, there's a few considerations you'll need to make to determine which one fits with your lifestyle.
If you're only looking for a pocket knife for self-defense, all you need is a blade and a handle. Something sturdy, simple, and well-rounded is all you need when it comes to a perfect tool for your protection.
Specialty pocket knives pop up all over the place, and they're often affordable. If you'll benefit from any extra features, you may be better off getting a heavy duty pocket knife.
Some pocket knives come equipped with glass breakers and seat belt cutters, two features that come in handy in the event of a car accident. They can also help if your keys are locked in your car and you don't have time to wait for a locksmith.
Some pocket knives have larger blades and can be used to clean fish or built campsite shelters. If you hike, camp, or hunt, you'll find that the bonuses come in handy.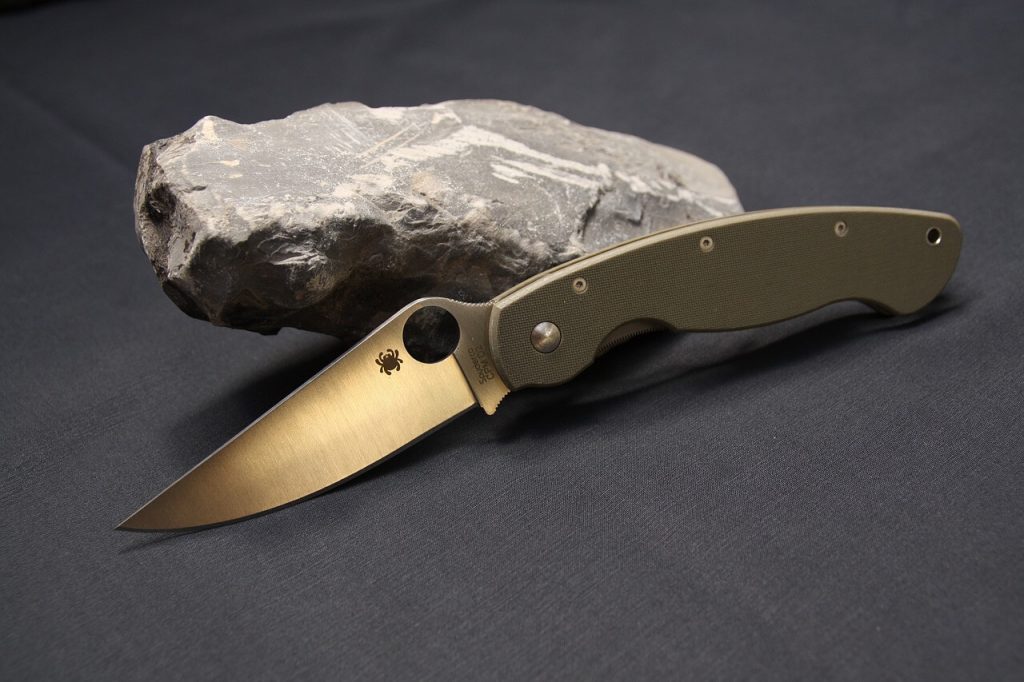 How to tell if a Pocket Knife is Worth the Money
Most people won't buy knives unless they're full tang. That means the blade goes all the way inside of the handle, eliminating the chances that the blade will come loose or break off.
Pocket knives can't be full tang. They need to be able to fold closed so you can safely carry them in your pocket. This makes the quality criteria different for pocket knives than most other kinds of knives.
A great pocket knife will have:
A thick blade, designed not to bend.
The handle will be easy to hold, and intuitive to use.
It should be simple to open – this can save you valuable seconds if you find yourself in an emergency.
It should also have a secure lock to prevent it from coming open in your pocket and possibly cutting your leg.
Possibly the most telltale sign for a pocket knife's quality is the amount of plastic components it uses.
Knives like Swiss army knives have plastic plating over the metal exterior shell just to keep the surface smooth, and that's perfectly fine. The plastic is far away from the actual blades and tools, so the potential for damage is virtually impossible.
What you don't want is a pocket knife with a plastic handle.
Pocket knives with plastic on the handle are bound to fall apart. Metal components constantly move and grate against the plastic. Eventually, you're left with a skeleton of a knife with no grip.
It's basically garbage, and it's not worth the money – even if you get it for cheap.
Top 10 Best Pocket Knife Reviews
This is a list of top rated pocket knives that showcase their strengths. It's hard to find the best quality pocket knife, because sometimes, quality means different things to different people.
That's why there are 10 on our list, not just one best pocket knife review.
All of these are great – it's their unique designs and fun bonuses that make them different. It's time to get into the pocket knife reviews, and have a look at the things that make each knife so great.
Kershaw 1605CKTST Clash Folding Knife
This is one of the best rated pocket knives, and it's easy to see why. Kershaw makes pocket knives with the same precision that most companies use to make industrial tools.
It's a folding pocket knife with a textured grip and a pocket clip, making it easy to carry around with you and access when you need it. The blade is partially serrated, and 3.1 inches in length.
PROS
Safe assist feature makes sure your blade stays closed while you need it to be closed, but it's also easy to open in a hurry.
Textured handle with sturdy grip makes the knife comfortable to use.
Pocket clip is wide, durable, and attached with three screws. It won't fall off or bend like the pocket clips on a cheap knife.
CONS
A little more on the expensive side, but you get what you pay for.
CONCLUSION
You can't go wrong with a Kershaw folding pocket knife. In addition to the excellent quality they provide, Kershaw has a notoriously great reputation when it comes to listening to their customers.
They use real feedback to create the best pocket knives. If you regularly shop for the best thing on the market, you'll find that this is the best pocket knife for the money.
Mtech Rescue Modified Tanto Black Spring
This is a tanto style knife, and the blade is almost 4 inches long. If you're looking for a larger pocket knife, you're going to like that length.
This is designed to mimic a tactical knife, but in a more compact size. You're not paying the full price of a tactical knife, which can sometimes be outrageous for what they are.
Think of this is a tactical knife that's portable for day to day use.
PROS
This model utilizes a spring assisted opening system. Not only does this look cool, but it buys you valuable time in an emergency.
This is one of the largest pocket knives that will still actually fit in your pocket. It features a deep clip to help keep the weighty handle in your pocket as you move around.
The tanto shape allows you to use this knife for a wide range of everyday tasks, including wood carving as well as simple hunting or fisherman tasks.
CONS
The shape of the handle isn't ergonomic, and it may take some getting used to.
The locking mechanism is simple, but the blade won't jiggle. Make sure you aren't playing around with the lock and putting undue stress on it.
CONCLUSION
This is a great hybrid. You're getting a tactical knife you can use as a pocket knife, and it really does operate like a tactical knife.
It's impractical to carry around a giant tactical knife with you everywhere you go, and this knife makes that possible.
TAC Force TF-705 Series Assisted Opening Tactical Folding Knife

If you're looking for the best value pocket knife, look no further. This sits among the top pocket knives, despite its attractively low price point.
It comes in a variety of colors, including that trendy oil slick rainbow coating that novelty knife lovers tend to collect. Outside of its aesthetics, it really does get the job done.
The blade is 3 ¼ inches long, and an impressive 3 millimeters thick. It's definitely not going to bend on you.
PROS
Handle doubles as a bottle opener and a glass breaker in case you ever need one. These are great bonus features that you'll be able to put to use.
It's safe to call this the best quality pocket knife that TAC makes, especially for the price.
Spring assist opening mechanism allows you to open the knife in a flash. This is especially convenient when you have your hands full and you need to do something simple, like open a box.
CONS
The serrated back end isn't especially strong. You can use it, but it works better as a regular knife.
CONCLUSION
The variety of colors, additional features, and low price point make this a great starter pocket knife. If you're just looking for the best everyday pocket knife, you'll find that this one meets all of your specifications.
It's easy to use, and it's very practical.
Smith & Wesson Extreme Ops SWA24S Liner Lock Folding Knife
Smith & Wesson is a reputable brand. They make everything from handcuffs to guns. They take their self-defense products very serious, and this just might be the best self defense pocket knife.
The design is sleek, it's easy to use, and it features three blade surfaces. You're getting a traditional pocket knife in the front, with a serrated edge in the back and a saw edge on the top.
PROS
Thumb knobs are ambidextrous. You'll appreciate this if you're left handed, as it makes things a lot more convenient.
The total length of the knife is 7.1 inches, with a 3.1 inch blade. It's big enough to be useful, and small enough to fit in your pocket.
The lock is very secure. You'll never have to worry about it coming open in your pocket.
CONS
Though the lock mechanism is very secure when you learn to use it, it can be complicated to figure out at first. It's a super effective mechanism, and it requires a little more effort to learn.
CONCLUSION
This is a pro grade knife, and it's almost military style. If you want a serious pocket knife that you know you can depend on, this is the knife for you.
Knife enthusiasts love this knife, but it's not too complicated for a beginner. If you want to buy one trustworthy knife and be done with your pocket knife collection, buy this one.
TAC Force TF-469 Gentleman's Assisted Opening Folding Knife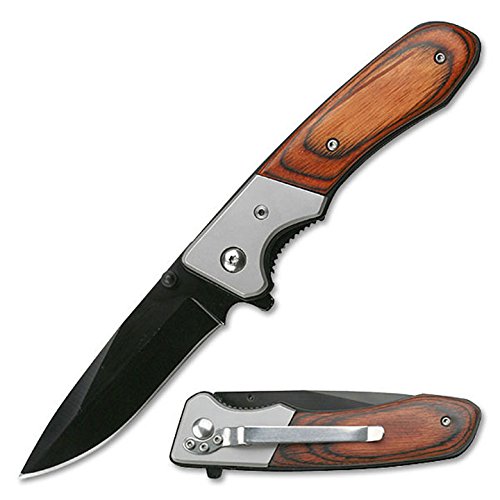 This knife is all about class, and it's designed with the woodsman in mind. It has a wood handle with silver finishing, and a traditional black blade with a traditional straight edge.
The main draw to this knife is the aesthetic. It's going to look great in a fishing or hunting kit.
PROS
The knife uses both a spring assist opening and a traditional liner lock. It's easy to open, and easy to close.
The handle is made of genuine Pakkawood. It's durable, and it's beautiful to look at.
CONS
Blade is not saltwater resistant. If you plan to take this pocket knife with you on a saltwater fishing trip, you'll need to make sure you properly clean and dry it to avoid corrosion.
CONCLUSION
This functions well enough as a pocket knife. It's affordable, and it doesn't have any special features.
The biggest draw to this pocket knife is the way it looks. If you love the look of classic pocket knives with wood handles, this design is a vintage revival.
Gerber Paraframe Mini Knife
This is the best pocket knife for people who need a utility knife more than anything else. If you work as a contractor or your job involves tools, you'll want to keep this knife with you.
It's a reliable, simple, solid metal frame with an ergonomic grip, and a small, simple blade. This is great for cutting wires, opening boxes, or even cutting fruit when you're outdoors.
PROS
Perfect knife to take to work with you. Makes an excellent addition to any tool belt.
Simple skeleton frame makes it almost unbreakable. Fewer pieces means there's less to damage.
Comes in either a fine edge or a serrated edge variety, so you don't have to compromise on small sections of each.
CONS
This knife is very basic. It's designed for those who only want a pocket knife. Nothing more, nothing less.
CONCLUSION
This is the best pocket knife for people who constantly find themselves in situations where they wish they had a utility knife or a pair of scissors. It's a fully functional pocket knife for all intents and purposes, but it especially serves people who need to cut a lot of things in their everyday lives.
If you have to open a lot of boxes or cut cables all day, this is what you want.
Mtech Xtreme Ballistic Assisted Tactical Flipper Pocket Knife
Mtech pocket knives are very functional, but the main reason people choose them is for the way they look. They're decent knives, but the appeal comes from their unique designs that look like something out of a video game.
The functions of this knife are just as good as the form. If you want a cool knife that's going to work for you, check this one out.
PROS
You're getting a really sharp point for puncturing, a curved cutting edge, and a rounded serrated back. You can pierce a box and cut it open in one swift motion, and use that curved serrated part to cut through things like rope.
This knife looks like something out of a Batman comic. If you're really big into aesthetic knives, you'll probably love the design of the hilt.
CONS
Does need some maintenance. Make sure you periodically check and tighten the screws. It's not hard to do, and it only takes a few minutes.
CONCLUSION
If you want a pocket knife that will make you feel like a super hero, this is the best pocket knife for the job. It works great, but like most aesthetic knives, it does need some maintenance to keep it working correctly.
If you don't mind working with it and you don't intend to do anything crazy with it, you'll be happy with this pocket knife.
Victorinox Swiss Army Classic SD Pocket Knife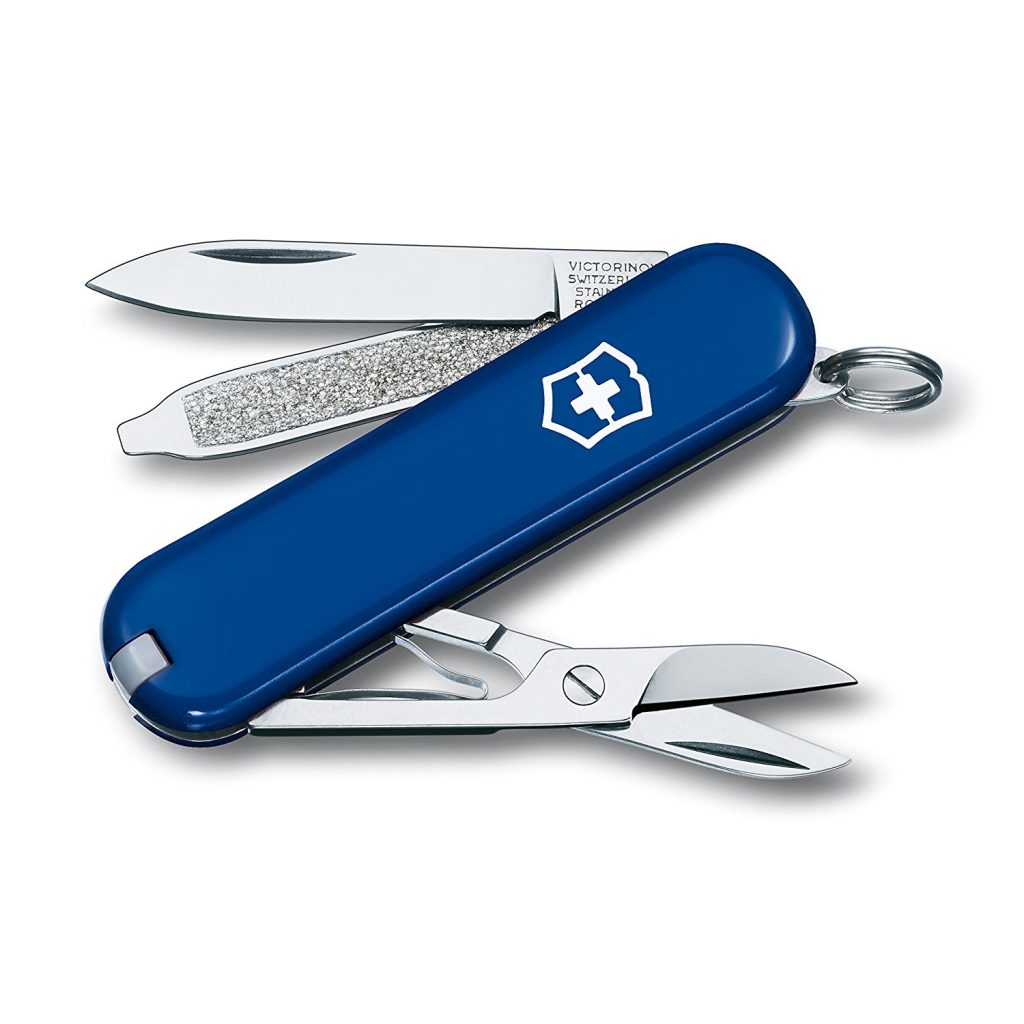 Everyone needs to have a Swiss army knife, even if they only clip it to their keychain. This is the best survival pocket knife, because it's more than just a knife.
It's equipped with a bunch of tools you'd need in a tough situation. If you want to be prepared for the unexpected, you can't afford to be without a classic Victorinox.
PROS
Comes in over 30 colors. You're able to customize exactly what you want, which is something you don't get with a lot of other pocket knives.
You're getting a small regular knife, a file, tweezers, scissors, a small screwdriver, and even a toothpick. It's an entire kit in a compact size. You can carry everything with you.
The quality standard for Swiss army knives is always very high. They're designed to be precision tools, and that's exactly how they perform.
CONS
The blades on Swiss army knives are very small, but they're very sharp. They're designed for simple tasks.
CONCLUSION
Everyone needs a Swiss army knife. It doesn't matter who you are, or even if you're interested in pocket knives. This is a basic tool that nobody can afford to be without.
It's great for men, women, and even cub scouts. No matter what pocket knife you decide to go with, you should at least supplement with this one. You'll be astounded how often you can use it.
WarTech Tac Force Assisted Pocket Knife
This is a combination of a hunting knife and a pocket knife. Hunters will really love this one.
If you're away from base camp or a deer blind, it's always good to have a backup knife you can carry in your pocket just in case you need one. It's designed for easy access and versatility.
PROS
You're getting a full regular blade and a full saw back. This is a lot more functional than pocket knives that try to cram both surfaces into the blade area.
You've got your whole standard cutting area and a whole saw without compromise.
The red color makes it easier to find if you drop the pocket knife on the ground or carry it in a packed bag.
In addition to a spring assisted opening, you're also getting a finger grooved grip. You can easily clean a fish with this pocket knife if you need to.
CONS
This knife is mostly designed for hunting, fishing, and camping. If you're looking for an everyday pocket knife, this one might be a little impractical.
CONCLUSION
This knife is a hunter's dream. You never know when you'll need a pocket knife when you're out in the woods, and this one will become your trusty companion.
You just can't go wrong. It's more than just a knife – it's a tool you'll need to make your life easier while you're tracking a deer or a wild boar.
SOG Key Folding Knife KEY-101
This may seem like a gimmick or a novelty knife, but in reality, it's absolutely genius. It's a hidden safety feature that you'll love in an emergency.
This pocket knife is designed to look like an ordinary house key. Inside, it's stocked with a modest 1.5 inch blade. If you're ever being attacked and you're unprepared, this knife makes it easy to defend yourself. Your attacker will never see it coming.
PROS
You'll appreciate how discrete this knife is when you need it most. When someone is holding you up and demanding your keys or your wallet, this gives you a low key opportunity to make a swift move.
You can clip it to a regular keychain and easily carry it with you wherever you go. It will fit in your pocket just as well as your regular keys will.
CONS
Blade size is small, but that's what makes this the perfect undercover self-defense tool.
CONCLUSION
If you need to walk to your car or your apartment building by yourself at night, especially if you're in a bad part of town, this pocket knife can become your saving grace.
It's so affordable that it's easy to justify purchasing this strictly as an emergency tool. When you're in peril, it will be enough to protect you until you can find help.
Which One Should You Buy?
These are all top rated pocket knives, and anyone should be glad to own them. These pocket knife reviews were written to help you distinguish which one, or ones, will come in handy in your everyday life.
There's no reason to stick to just one. There are a few pocket knives that are great supplements to a collection. Swiss army knives and key knives are great things to have handy, while most other pocket knives address a special purpose.