Whether you're looking for the best manual knife sharpener reviews or the best electric knife sharpener reviews, we have you covered.
Buying a knife sharpener isn't as easy as it might seem.
Different sharpeners work for different knives. Some of them even work with things like scissors or common lawn tools. There isn't one knife sharpener to rule them all – you need to find the one that's up to the task at hand.
Our Top Best Knife Sharpeners
How to Select a Knife Sharpener
If this is your first time buying a knife sharpener, you need to consider what exactly you want that knife sharpener to do.
Some sharpeners will do a great job on a chef's knife, but can't handle serrated blades. Some sharpeners work just as well on a paring knife as they do on a hatchet.
There are different sharpeners and systems for varying budgets as well. You've got a little work to do.
Phases and Systems
Some knife sharpeners are simple. You pull the knife through a set of sharpening stones and you're done. Other sharpeners comes with dual phases.
Often, one slot is for sharpening the knife and the other slot is for refining the edge. The same tool will sharpen and hone your blade.
These are typically a little more expensive, but they're worth it. Rather than having a sharp knife with slightly jagged edges, you'll have a sharp knife that's a little more refined and can cut through delicate surfaces, such as tomato skin, without leaving rips behind.
This often isn't a concern for people who need a sharpener for hunting knives or tactical knives, as these knives are most often used as utilities. Some people don't mind having rough edges on rough knives, so a honing slot is merely an added bonus in these cases.
Blade Size
Some sharpeners are set for small knives, and others are set for large knives. The best kitchen knife sharpener will be somewhere in the middle, as kitchen knives only get moderately thick at their widest point.
The best portable knife sharpener will always utilize standard sizes rather than larger, custom widths. This is to help keep the sharpener small enough to easily pack away, or tuck into your pocket.
Some knife sharpeners are adjustable. This means you can use them to sharpen impossibly large things, such as axes. These are great for people who work with a lot of tools, then it's handy to have around in the winter time when it's time to cut wood for the fireplace.
User Friendly Features
The best knife sharpener systems are often electric, making it easy for you to sharpen a blade effortlessly. Manual knife sharpeners are a little different, but they still come with features that will help you out – particularly if you're a beginner.
There are countertop knife sharpeners that stick down with suction cups to prevent slipping, and there are sharpeners with non-slip bottoms that feature handles to keep them steady.
Portable knife sharpeners should always have textured grips and be easy on the hands, particularly since they're often used without a hard surface for support.
There are also manual knife sharpeners that are great for people who like to do all the hard work themselves, especially when sharpening blades that are an irregular size or cut. Ideally, these sharpeners will also have similar grips.
The Top 10 Best Knife Sharpener Reviews
So, what is the best knife sharpener? The first step to finding the best knife sharpener is reading the best knife sharpeners reviews.
While most of these are manual, there are also some of the best electric knife sharpener reviews thrown into the mix. These are the top rated knife sharpeners on the market, and you're bound to find one (or maybe two) that will work for your needs.
LINKYO Knife Sharpener (Electric)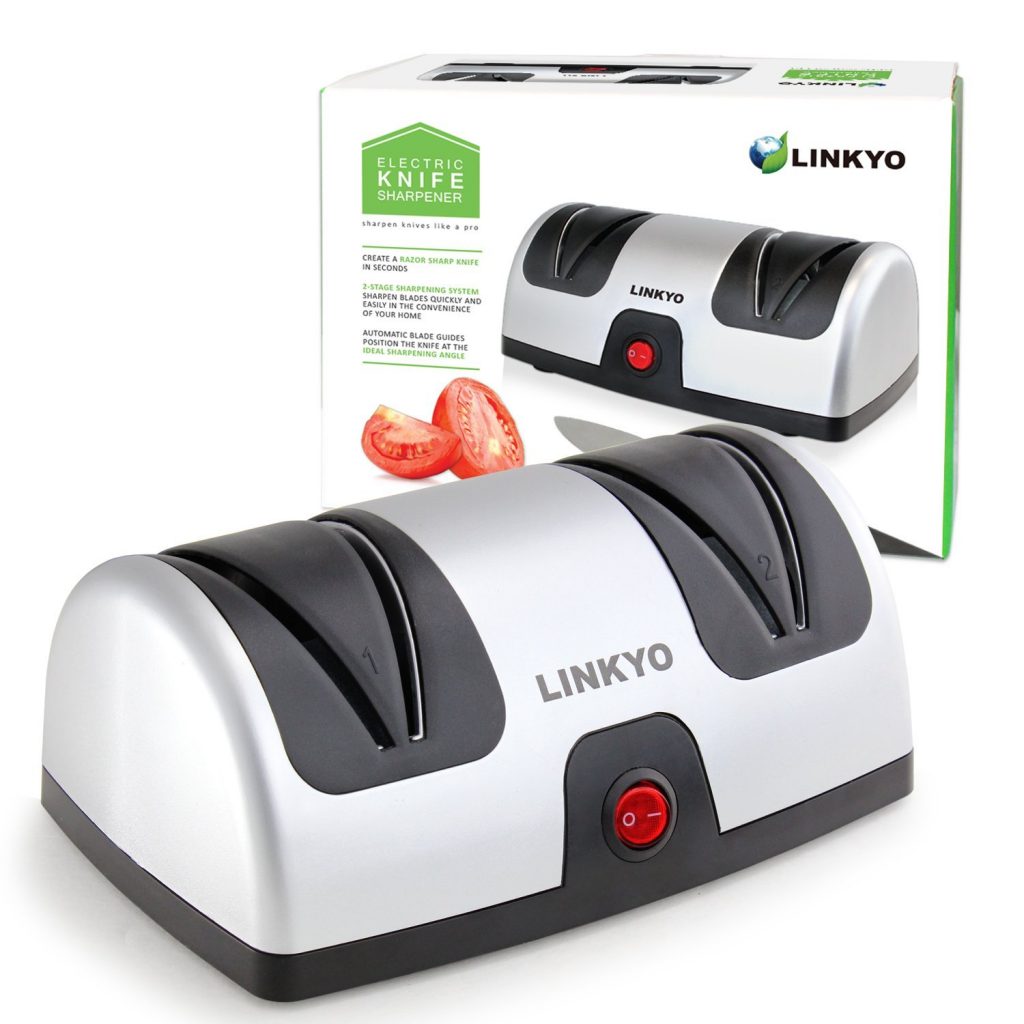 Sharpening knives manually is difficult. If you aren't into doing all the hard work yourself, you're going to love this.
This is a small countertop unit that will work well in apartments or dorm areas that don't have a lot of space. The first side sharpens the knife and collects the filings, while the second part buffs and smooths the blade to get rid of any jagged edges that may be hanging on.
PROS
Compact, space saving design.
Easy to clean, and it won't make a mess.
Polishes the knife for you on the buffing side.
CONS
A little tricky to use with serrated blades – it does better with straight edged knives.
Only works on knives up to 4.4 millimeters thick. You can't sharpen a large cleaver with most electric sharpeners.
CONCLUSION
This is the best knife sharpener system for people who have limited countertop space. It does exactly what it promises it will do, and it's easy to put away when it's not in use.
It's affordable even on a college student's budgets, and your roommates will love you if you bring this to your dorm.
Smith's KitchenIQ 50009 Edge Grip Knife Sharpener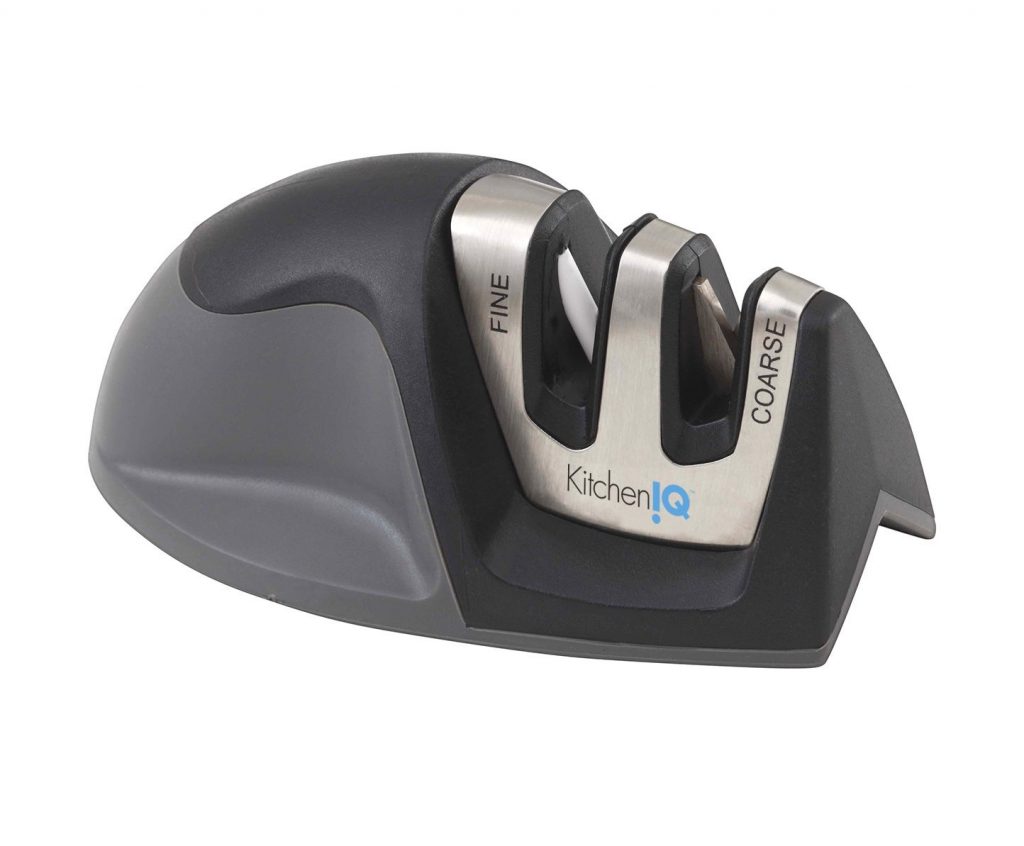 This sharpener is designed to grip the edge of your countertop, making it easier to pull knives through the slots without having to worry about the sharpener slipping around.
It comes with two different sharpening edges – a fine edge for knives that just need a little extra sharpening, and a coarse edge for knives that have gone completely dull.
PROS
Edge grip design keeps you from accidentally dragging your knives across the countertop. You sharpen them at an angle, so they'll never scrape against anything but the sharpener.
Coarse side is brazed with copper to keep it from coming loose with frequent use.
Ceramic side lightly hones blades to keep them smooth.
CONS
Only works well for basic, inexpensive knives. Professional grade Japanese or German knives require a special sharpener.
CONCLUSION
This is the best kitchen knife sharpener for the casual cook. If you only have a few basic knives that you need to cut up products or meat, you'll be pleased with what this sharpener will do for you.
If you don't have fancy knives, there's no need to buy a fancy sharpener.
Lansky PS-MED01 BladeMedic
This is a small sharpener, but it's certainly mighty. It comes with two sharpening slots, a ceramic edge, and a sharpening rod all in one compact casing. It can sometimes take longer to use a mini sharpener, but you have the maximum amount of control you can get.
If you work with small knives with serrations, you'll find that this is the best pocket knife sharpener. Most manual sharpeners are designed for use exclusively with straight knives, so if serrated knives or pocket knives with saw edges are an issue for you, this is the sharpener you want.
PROS
One of the best manual knife sharpeners for serrated knives.
Casing is made of metal. If you slip and hit the casing with the knife, it won't crack or break like a plastic sharpener casing.
CONS
Sharpener is small. You'll need to be careful while you're holding it because of the compact size.
CONCLUSION
This is the best portable knife sharpener for knives of all kinds. You can use it on pocket knives, survival knives, and hunting knives.
It's small enough to fit in your pocket, and easy to pack for a hunting or camping trip. The multifunctional tools allow you to customize the sharpening of your knife, focusing on different edges.
Smith's PP1 Pocket Pal Multifunction Sharpener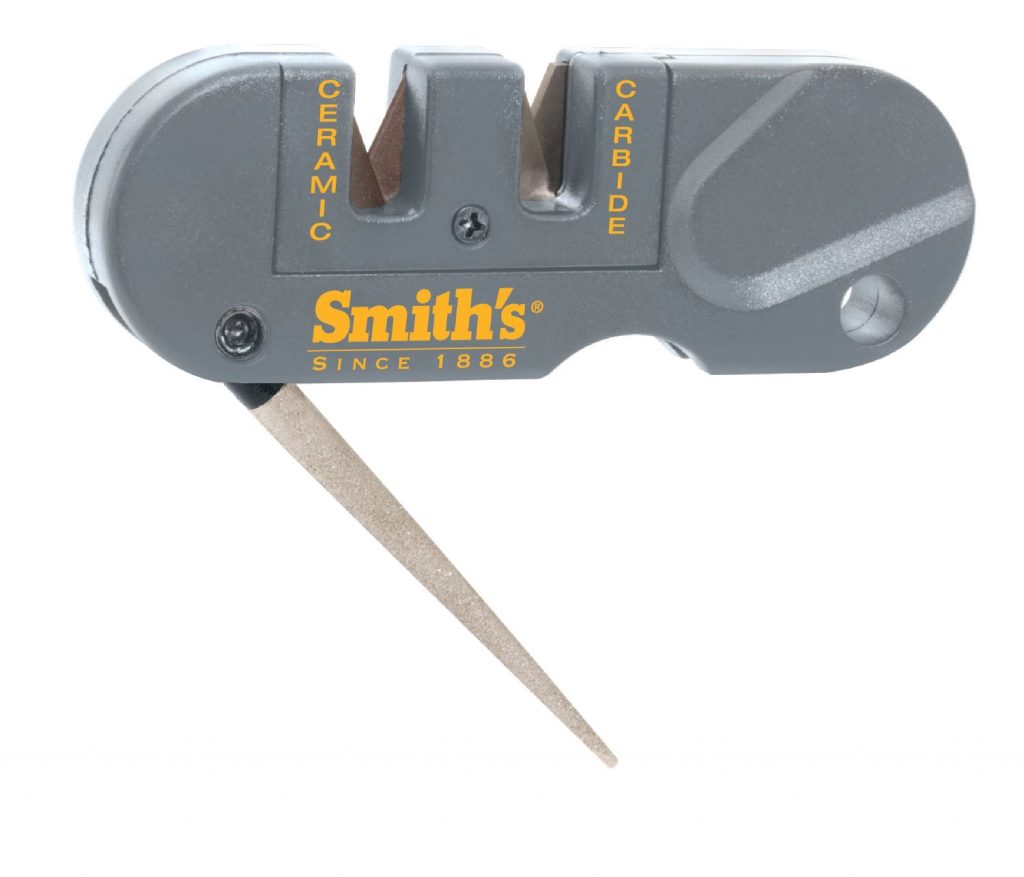 If you're looking for a hunting knife sharpener, you're going to enjoy the features provided by the Pocket Pal.
It's small, portable, and packs a real punch. It's designed to fit right into the pocket of your jeans, and it will be your trusty companion the next time you spend a day out in the woods.
PROS
Loaded with three sharpening options, including a diamond rod for manually sharpening serrated knives.
Lightweight and easy to carry. It won't smack against your leg when you're walking around with it in your pocket.
All of the sharpening components are replaceable when they stop working to full capacity, and they're easy to replace on your own.
CONS
Case is made of plastic. You'll have to be careful not to scrape the knife against it.
Not made for kitchen knives. It's better for outdoor knives.
CONCLUSION
This is the best hunting knife sharpener you're likely to find for the price, and many people would also consider it to be the best pocket knife sharpener. It's very affordable, and it's exactly what you need when you want to grab and go.
Give your knives a quick sharpening on a heavy duty sharpener before you head out on your trip, and carry this with you for field touch-ups while you're out and about.
DMT FWFC Double Sided Diafold Sharpener
This is a traditional knife sharpener with an edge and a handle. This is what you see most chefs using. The sharpener itself actually comes in a variety of configurations, with each side having a different sharpening edge.
The fine / coarse configuration gives you the best of both worlds, but it also comes in coarse / extra coarse, extra extra fine / extra fine and fine / extra fine. The customization makes this one of the best manual knife sharpeners.
PROS
You can buy one popular configuration, or two separate sharpeners. This allows you to tend to the needs of all of your knives, because you aren't confined to a single sharpening surface.
Since this is a flat edged sharpener, you can sharpen almost anything with it. You can use it for almost all knives, as well as scissors and even garden tools.
Can be used to polish and finish axe or hatchet blades.
CONS
Since this doesn't have slots, you'll actually need to perfect your sharpening technique. It doesn't do the work for you. You need to make sure the edges are perfect on your own.
It's not good for kitchen knives.
CONCLUSION
This is the best manual knife sharpener for almost any task. It's designed to take on a wide variety of edges. You'll need to learn to use it if you aren't familiar with paddle style sharpeners, but the diamond grit surface will work on absolutely everything.
If you feel throttled by the limitations mentioned in the other best knife sharpeners reviews, this removes almost all of them. You can't go wrong.
Lansky Deluxe 5-Stone Sharpening System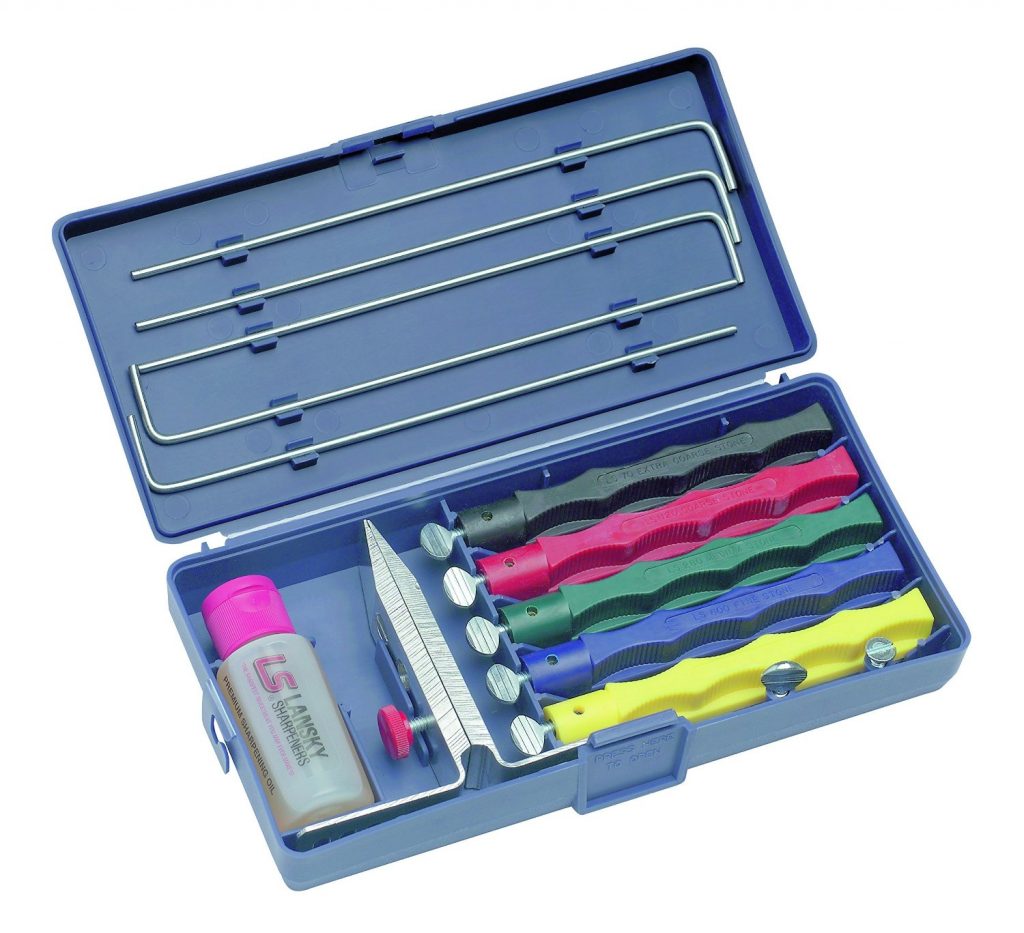 This is the best knife sharpener system for people who are very particular about their knives. You're getting five different stones with five different surfaces, so every knife can be sharpened exactly the way it was intended to be sharpened.
Outside of just the stones, you're getting a complete functional kit that you can use to accomplish a wide variety of sharpening tasks.
PROS
Stones are color coded, so it's easy to draw up a key as to which stones work best with which knives.
Comes with a knife clamp, honing oil, and metal honing guides.
Stones have ergonomic grips to the back, making them easy to hold while you sharpen.
CONS
Stones require special oil. You'll need to repurchase it when you run out.
CONCLUSION
You'll be prepared for anything when you buy this set. All of your knives can be sharpened accurately, as you're getting a variety of different surfaces.
There is no one size fits all approach when it comes to blades. Every kind of knife or tool requires a different edge for maximum sharpening performance, and you're getting them all in one convenient kit.
Work Sharp WSKTS-KO Knife and Tool Sharpener
If you're looking specifically for the best electric knife sharpener reviews, this is the one you'll want to read. This isn't just the best electric knife sharpener – it's the best sharpener for anything.
Use it for scissors, tools, and even hedge clippers. All you have to do is turn it on. You can get a razor sharp edge with virtually no effort.
PROS
This isn't just a knife sharpener. It's a hefty investment, but you can use this on practically anything you need to sharpen.
Comes with a special guide just for scissors, allowing you to sharpen them perfectly.
Replacement belts are easy to install. When one belt dulls, just pop on a new one.
Comes equipped with angle guide.
CONS
This is a premium knife sharpener, so it's a little on the pricier side.
CONCLUSION
This single tool can be used on everything you own. Whether you're sharpening knives, mower blades, shovels, hatches, shears, machetes, or even axes. You'll never run out of uses for this sharpener.
Every handy person needs to have one of these around. Not only is it the best kitchen knife sharpener, it's also the best hunting knife sharpener and the best pocket knife sharpener.
SunrisePro Knife Sharpener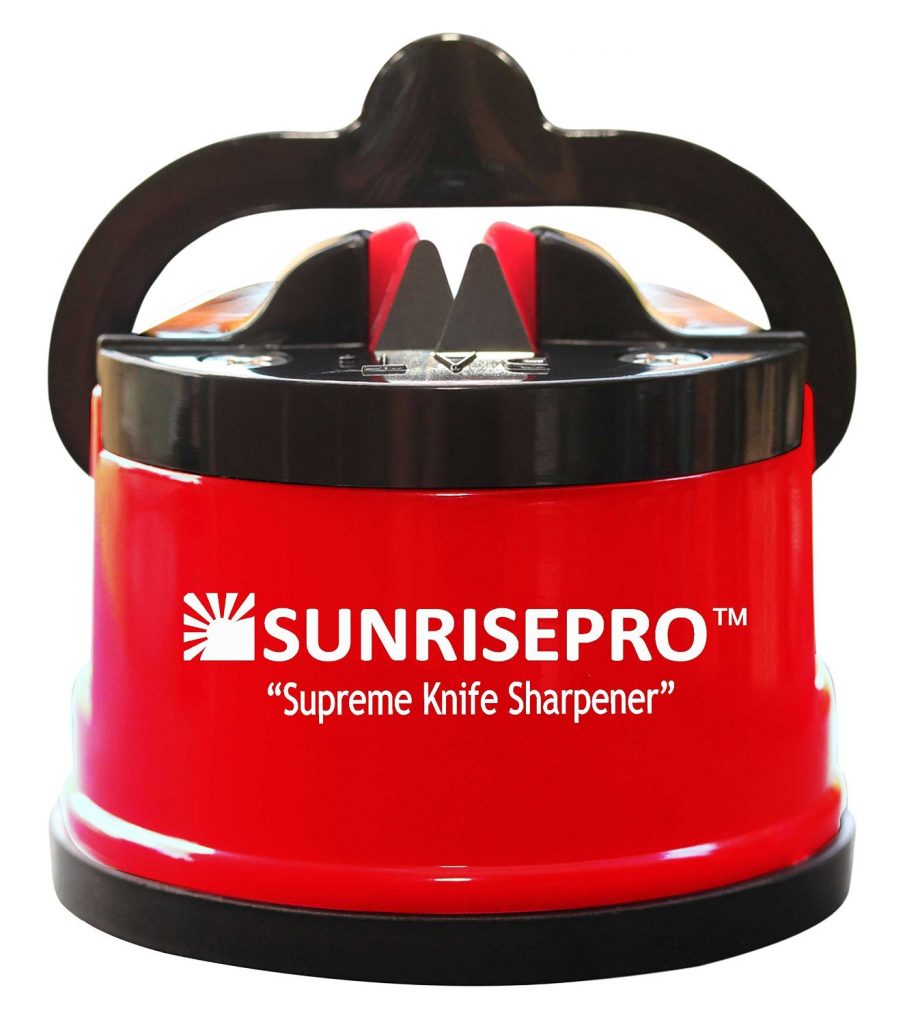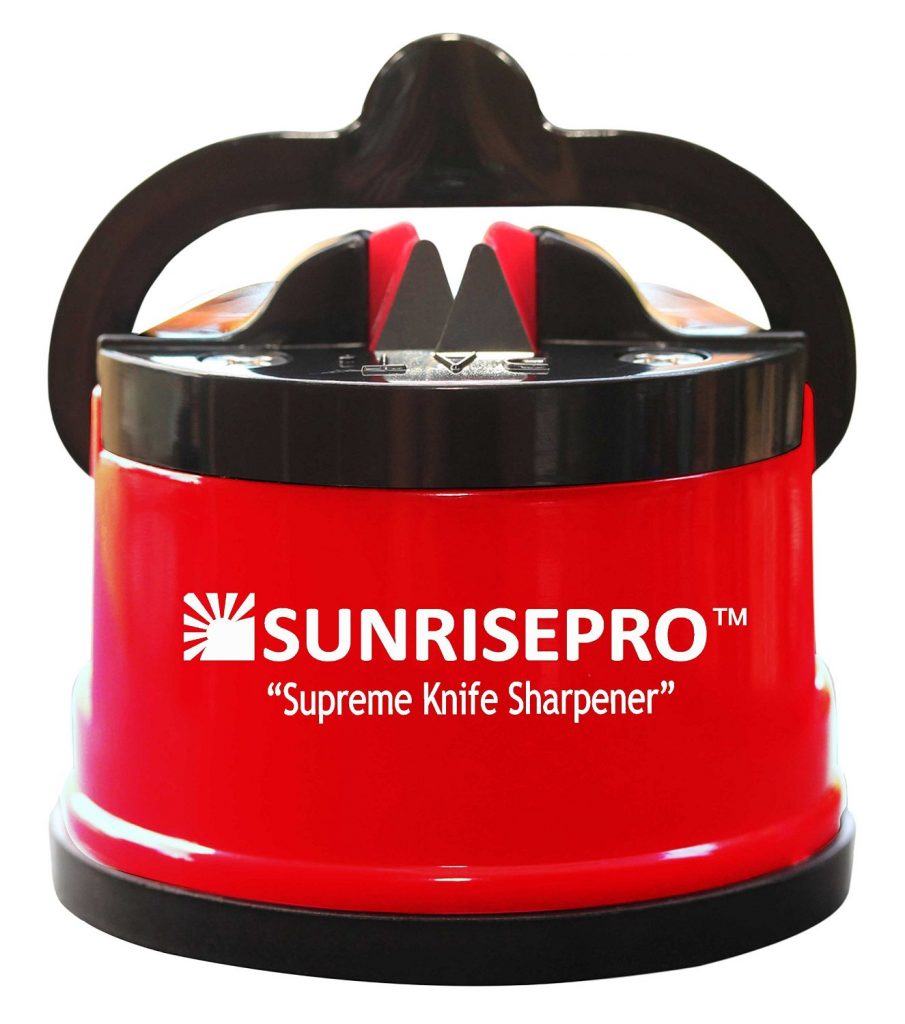 The appeal of this knife sharpener comes directly from its design. Not everyone will need a knife sharpener that's designed like this, but the people who do will be so thankful that one exists.
The main concern with the SunrisePro sharpener is safety. It's easy to attach to the countertop with a suction cup, and it come with safety guides.
PROS
Safety features make this perfect for senior citizens, people with motor coordination issues, and even people who are just clumsy.
Built to sharpen things to the standard angle. All you have to do is drag the knife through.
Sharpens toward the handle, so there's almost no risk of poking yourself with the end of the blade. It's easy to sharpen away from your body.
CONS
Very basic knife sharpener. Not meant for special tools.
CONCLUSION
If you want a basic knife sharpener that's just going to get the job done for your kitchen knives, this is the sharpener you're looking for. It isn't fancy, and it's not intended to be used with complicated kitchen tools.
If you're nervous about working with manual sharpening tools or electric knife sharpeners, this one will ease your nerves. You can have sharp knives without having to learn a system or process. Just pull the blade through the sharpener.
Alpha Tek Pocket Hunting Knife Sharpener
This is a very small sharpener with dual purposes that make it the best portable knife sharpener to use for your hunting knives.
It fits right in the palm of your hand, and it even comes with a metal chain you can use to fasten it to the outside of a backpack or camping bag. This will keep you from losing it when you don't have it stored away comfortably in your pocket.
PROS
This sharpener has two sides – one fine ceramic side, and one coarse carbide side, which allows you sharpen and refine your blade with one tool. Some hunting knife sharpeners only have a coarse edge that won't allow you to finish the blade. You can do it all with one piece of equipment
This sharpener is shaped like a butterfly, and the edges have textured grips. You can hold it firmly and securely while sharpening your knives. Your hands won't slip.
This will work just as well on hunting knives and tactical knives as it will on fillet knives. You'll always have a sharp blade, even when you're preparing your fresh catch on a fishing trip.
CONS
Opening slots are small. You can only use this with knives, as bigger tools won't be able to fit.
CONCLUSION
This is a sturdy little gadget, and you'll appreciate having it when you need it. It's the best hunting knife sharpener to do the whole job.
Your blades will be sharp and your edges will be honed in a matter of a minute. It's small enough to fit anywhere – whether it's your pocket or your tackle box. It's like the Swiss army knife of knife sharpeners.
PriorityChef Precision Knife Sharpener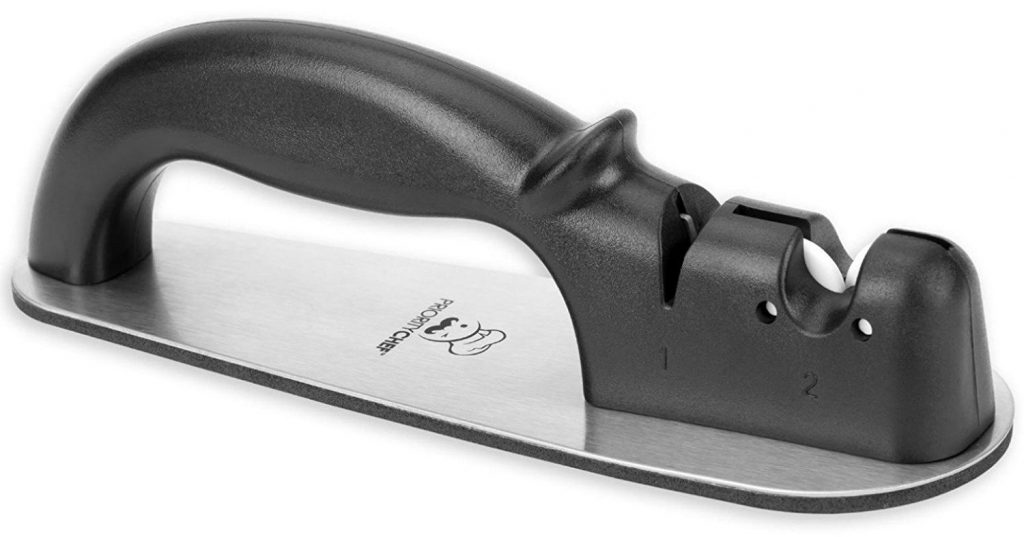 This knife sharpener is designed like the ones used in high end kitchens. It's simple, but it's very user friendly and effective at what it does. It won't take up a lot of space, and it's perfect for the hobby chef.
It's the midpoint between basic and fancy, and it comes at a very affordable price point. Everyone will be able to use it, and people who find themselves cooking very often will heavily rely on this knife sharpener.
PROS
In addition to the non-slip base, this knife sharpener comes with an ergonomic grip. You hold down the base with one hand, and sharpen the knife with the other. This offers you maximum control.
Most sharpeners are set so that the stones are in a "V" shape. These stones are slightly different, offering a hollow finish with a sharper point. This keeps the tip of your knife sharper for delicate cuts on things like meat.
Comes with both a sharpening and a finishing slot.
CONS
Ceramic finishing slot is actually moveable wheels, rather than set stones. You'll have to get used to the rolling motion to truly perfect the edges of your favorite chef's knife, or any other wide knife.
CONCLUSION
If you want to feel like a pro, this is the sharpener for you. It's a lot like a professional sharpener, and it's a little less intimidating than an electric sharpener.
If you're a real enthusiast, you'll appreciate the practicality of this design. You'll never want to stick it in the drawer. It's just as good for quick touch ups to knives that have seen better days as it is for sharpening the dullest knife you have.
Which One Should You Buy?
The best knife sharpener is different for different people. If you know your cooking habits (or even your hunting habits), you'll be able to gear your choice in the right direction.
While there are a few knife sharpeners that do it all, but many have specific purposes. There's no reason why you can't buy several knife sharpeners that will accommodate all of your needs.