Everyone needs a pocket knife. Whether you're a man or a woman, or even if you're shopping for a teenager, there isn't a person who can't make sure of a functional tool like a pocket knife.
Whether you use a knife for protection or for the myriad of other tools that come attached to it, there's a pocket knife that will suit your daily needs.
The Best Pocket Knife Brands
These top pocket knife brands all bring something special to the table. The best brands of pocket knives vary from person to person, largely depending on what the person needs to use the knife for.
Each one of these brands is unique, and you'll appreciate their cool features.
1. Smith & Wesson
Smith & Wesson is a well known brand in the world of self defense. They even make equipment commonly used by the police force.
If that's not a testament to quality, nothing is. Knives are one of the many things this brand has established a reputation for.
Smith & Wesson 1st Response SWFRS Liner Lock Folding Knife
This is the closest design to a typical pocket knife that Smith & Wesson offers. It's loaded with tons of features that make it a multifunctional tool.
PROS
Comes with a glass breaker and a seatbelt cutter built into the handle.
Features a serrated back for sawing.
CONS
Seatbelt cutter needs to be sharpened.
CONCLUSION
If you want a durable, reliable pocket knife for a reasonable price, you can't go wrong with this offering from Smith & Wesson. They're undoubtedly one of the best pocket knife brands.
Smith & Wesson Extreme Ops SWA24S Liner Lock Folding Knife

This is a combination of a pocket knife and a tactical knife rolled into one convenient package. This is a heavy duty knife at a very affordable price point. You'll never want to be caught without it.
PROS
Ambidextrous thumb joints make this knife easy for left handed people to use.
Comes with a pocket clip built onto the casing for easy access.
CONS
Safety locking mechanism can be a little difficult to master.
CONCLUSION
When you can't decide whether to purchase a tactical knife or a pocket knife, you'll find that this knife gives you the best of both worlds.
You're getting the edges and design of a tactical knife at a portable size.
2. Victorinox
Victorinox is one of the best pocket knife brands in the entire world. They're known for their legendary quality Swiss army knives, crafted with the utmost precision.
Victorinox offers a wide range of designs, from simple 4 tool folding Swiss army knives all the way up to knives with 30 or more features.
Victorinox Swiss Army Climber Pocket Knife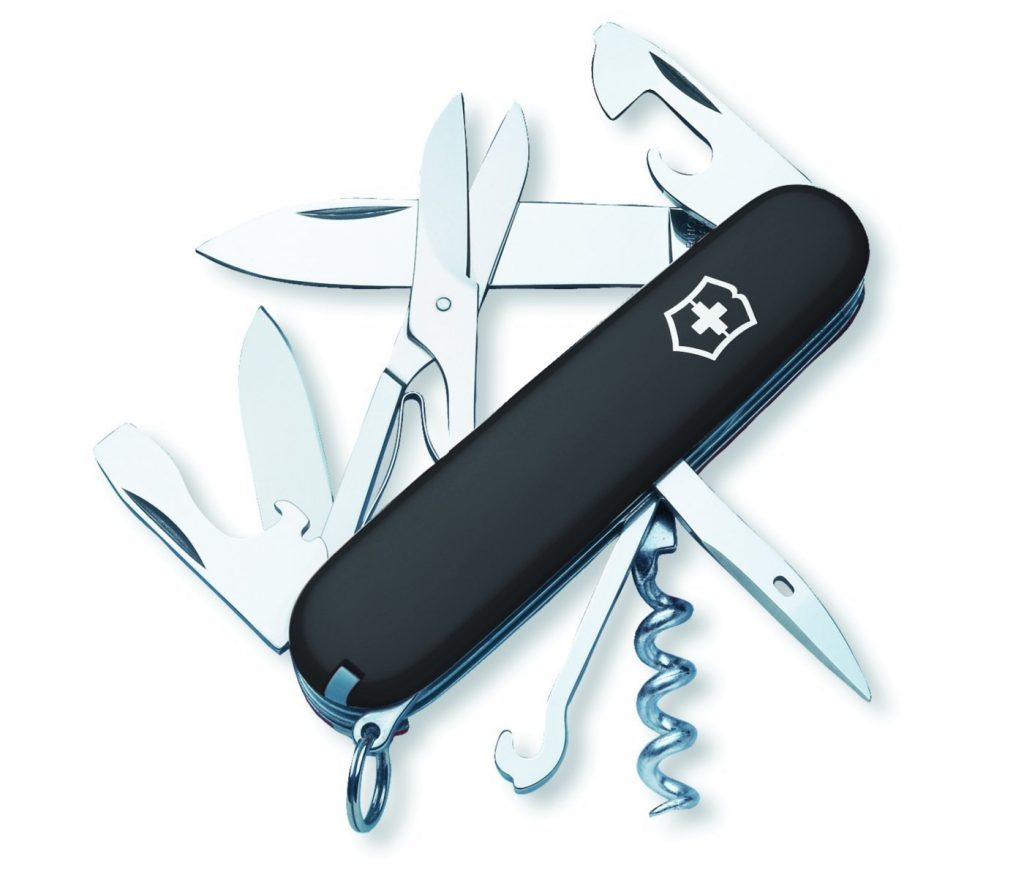 The Climber is one of the best entry level knives for anyone curious about becoming a Swiss army knife owner.
It has everything you'll need to use in your daily life, and it is light to carry around. This model will hook onto a keychain or fit comfortably in your pocket.
PROS
Comes with 8 attachments – two of them traditional knives. You're getting two blades for the price of one.
Other attachments, such as a corkscrew and a bottle opener, are always convenient to have on hand.
Comes with a toothpick and tweezers built into storage slots in the knife's external casing.
CONS
Does not feature a serrated blade.
CONCLUSION
Even a survivalist will love this pocket knife. It comes with just about everything you need to get any job done.
How many pocket knives also function as can openers and scissors? Victorinox is a household name when it comes to Swiss army knives, and its little gadgets like these that cement their reputation.
Victorinox Swiss Army SwissChamp Pocket Knife
The Swiss Champ simply cannot be beaten. This is a pocket knife that can do literally anything you've ever dreamt of.
It's just as helpful in the woods as it is in the work shed. You'll even find yourself pulling this out at social gatherings when someone needs the right tool but doesn't have one handy.
PROS
This knife serves up 33 functions across several attachments. Among these attachments is everything a fisherman would ever need, such as a scaler and a hook disgorger.
Features 4 different screwdriver ends, making this knife a contractor or a tinkerer's dream.
CONS
Attachments make it heavier than most other pocket knives.
CONCLUSION
The Victorinox Swiss Champ is the ultimate pocket knife. You'll never find yourself wishing you had a tool – you'll have absolutely everything you could ever use right in your pocket.
The possibilities and the versatility alone prove why Victorinox is one of the best pocket knife brands.
3. Kershaw
Kershaw makes tons of knives – one for every purpose. They're one of the best pocket knife brands, and they've also proven themselves worthy with machetes and hunting knives.
This brand is well rounded and features a lot of premium offerings that no one else can beat.
Kershaw 1605CKTST Clash Folding Knife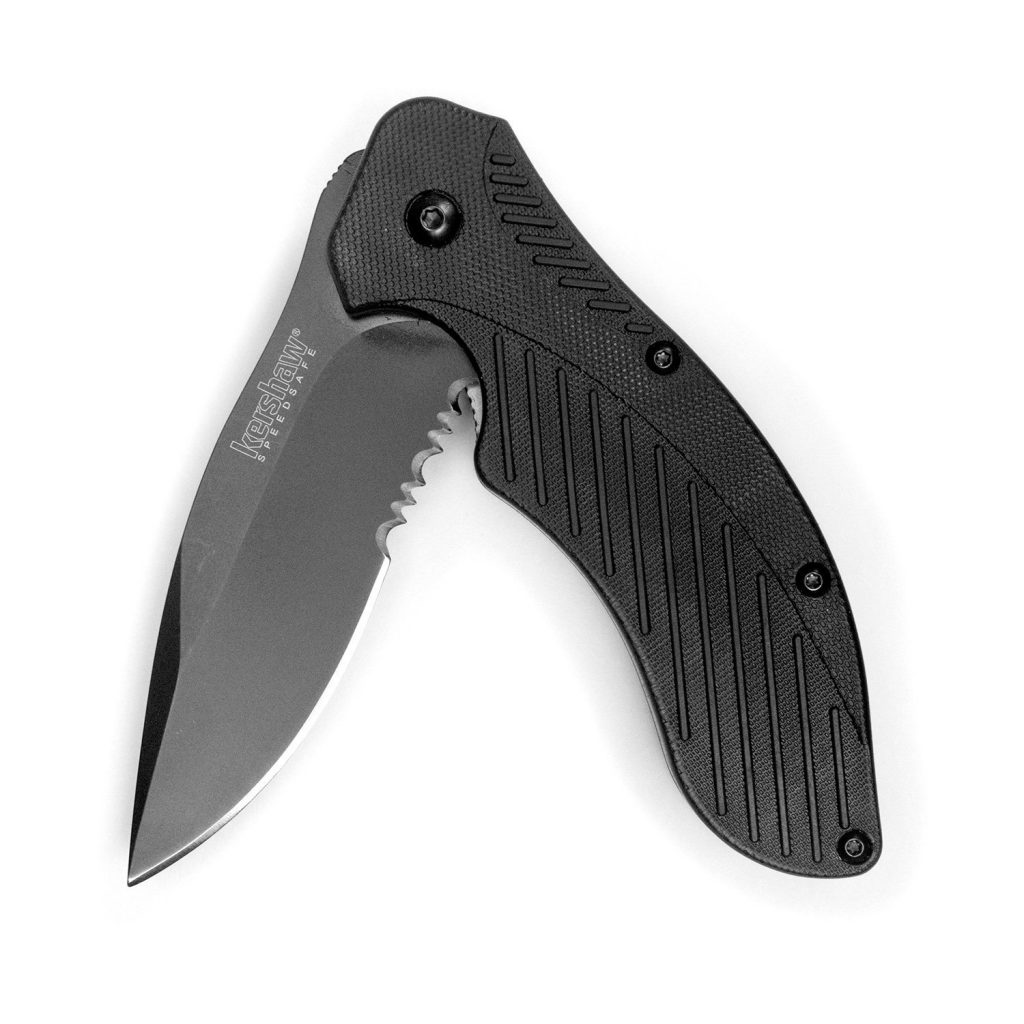 At its core, this is a very simple folding knife. It doesn't look like much on the surface, but it's the quality looming underneath that makes this knife a great find.
Its simplicity lends to its durability. Everything from the pure coated steel blade to the glass filled nylon handle makes this pocket knife rough and rugged.
PROS
Assisted opening feature is perfectly safe, and it comes with a secure locking mechanism.
Partial two step serration system at the back of the blade is durable enough to saw through something thick, such as rope or a seatbelt.
CONS
CONCLUSION
As far as folding pocket knives go, this one is a real winner. It's compact and easy to carry around with you. With such high quality at such a reasonable price, it may even be worth buying two.
Keep one in your pocket and store the other in your glove box in case of an emergency. You'll be glad you did.
Kershaw 8700BLK Shuffle Multi-Function Tool Knife
This is for someone who wants more than just a basic pocket knife. You're getting a short blade with a few extra bonuses built onto the casing.
This is a manual knife, which is perfect for people who worry about spring assisted knives popping open in their pocket for failing to completely lock.
PROS
Comes with a screwdriver end and a bottle opener on the back of the handle.
Perfect size for a standard pocket. It even comes with an adjustable clip to help it stay in place.
CONS
This knife is super secure, so it uses a tight liner lock mechanism. While this keeps the knife safely closed, it can also make the knife a little hard to open until you get used to it.
CONCLUSION
Overall, this is one of the best folding pocket knives for people who also want some of the aspects of a Swiss army knife.
You're only getting a few tools, but you're also getting a much larger blade when you opt to go this route instead. If you were previously undecided about which way to go, having this option should make that choice a little easier for you.
4. Elk Ridge
Elk Ridge is one of the best pocket knife brands off the back of their hunting knives. While they started as a brand that created hunting knives, they ventured into different territories where they could apply their knife innovations.
Many hunters prefer Elk Ridge brand pocket knives because they appreciate the consistency of quality across their full range of offerings.
Elk Ridge ER-134RB Folding Knife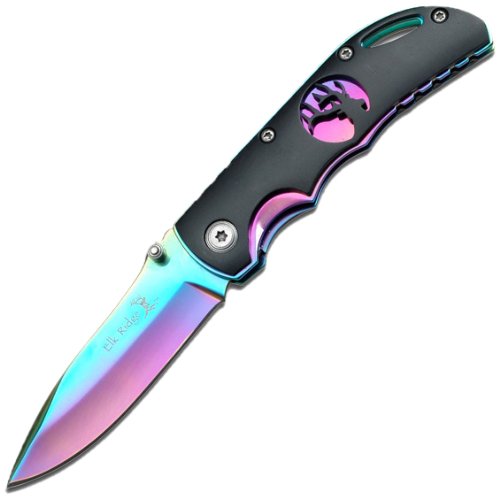 This is your basic staple pocket knife for everyday carry. It's equipped with a 3 inch blade, making it perfect for basic tasks like tending a garden, cutting fruit, or breaking down cardboard boxes.
It's easy to use this knife to open packages you've received or remove something you've purchased from a blister pack. It's an effective utility tool.
PROS
This knife comes in that trendy rainbow finish, sometimes referred to as an oil slick color scheme. It makes the blade flashy, and it's something cool to look at.
This blade is nice and thick, making it easy to sharpen once it starts to lose its edge.
CONS
No serrated edge or built in tools – it's just a basic folding pocket knife.
CONCLUSION
You'll love this for everyday carry. It's small enough for your pocket, but the blade is large enough to be workable.
It's a slim profile knife that can hold up to just about anything. It's a manual open knife with a secure lock that's easy to access and safe to store. You can't beat the bargain price that Elk Ridge sells this entry level knife for.
ELK RIDGE Wood Hunting Folding Knife
There's a specialty market for gentleman's style pocket knives. So few companies make them anymore, and many people love the nostalgia.
This spring assisted pocket knife features a solid pakkawood handle like the knife your grandfather probably carried, and it's equipped with a pocket clip to hold it in place while you're walking around with it in your pocket.
PROS
The blade is 3.2 millimeters thick. This is durable enough to prevent the blade from ever bending, and it can stand up to countless sharpening sessions without losing integrity.
Drop point end makes it easy to use this as a pocket knife for hunting.
CONS
No serrated edges or saw back on this blade.
CONCLUSION
This is a classic style pocket knife with a rustic charm. Unique offerings like these are what make Elk Ridge one of the best pocket knife brands.
It's hard to find a gentleman's style pocket knife that's been crafted with modern technology, and that's exactly what you're getting here. If you love the classic look and feel of these knives, you'll be happy to own this one.
5.  Schrade
Schrade is one of the best pocket knife brands not just because of their quality, but because of the design they use.
Vintage pocket knives often look like folding barber blades, and Schrade still uses this design for all of their products. They make excellent multi-blade knives that come in sleek, simple casings.
Schrade Imperial IMP16S Stockman Folding Pocket Knife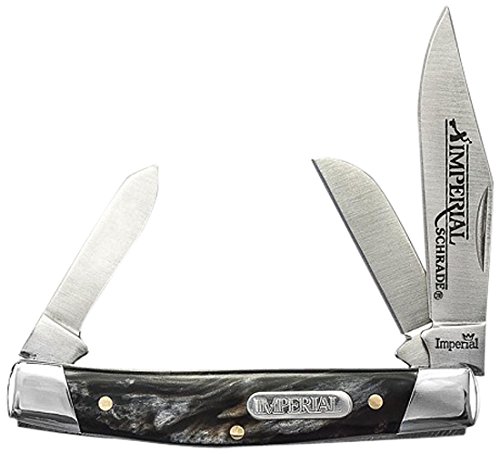 This pocket knife will never fail on you. It features a sheepsfoot blade as well as a spay blade with nail pulls.
The gray casing looks like polished stone or marble, and the blades are made of a resilient stainless steel that's easy to maintain.
PROS
Blades are secured with sturdy brass pins and the springs are heat treated. This knife will always stay together, and it will always open and close smoothly.
Has three separate fold out attachments for maximum versatility.
CONS
CONCLUSION
Plain and simply put, this is a classy pocket knife. If you appreciate knives for their aesthetic, you're going to enjoy everything from the appearance to the feel of this folding pocket knife.
Schrade makes excellent quality affordable folding pocket knives, and this is one of many you'll be satisfied with.
Schrade Old Timer 7OT Cave Bear Folding Knife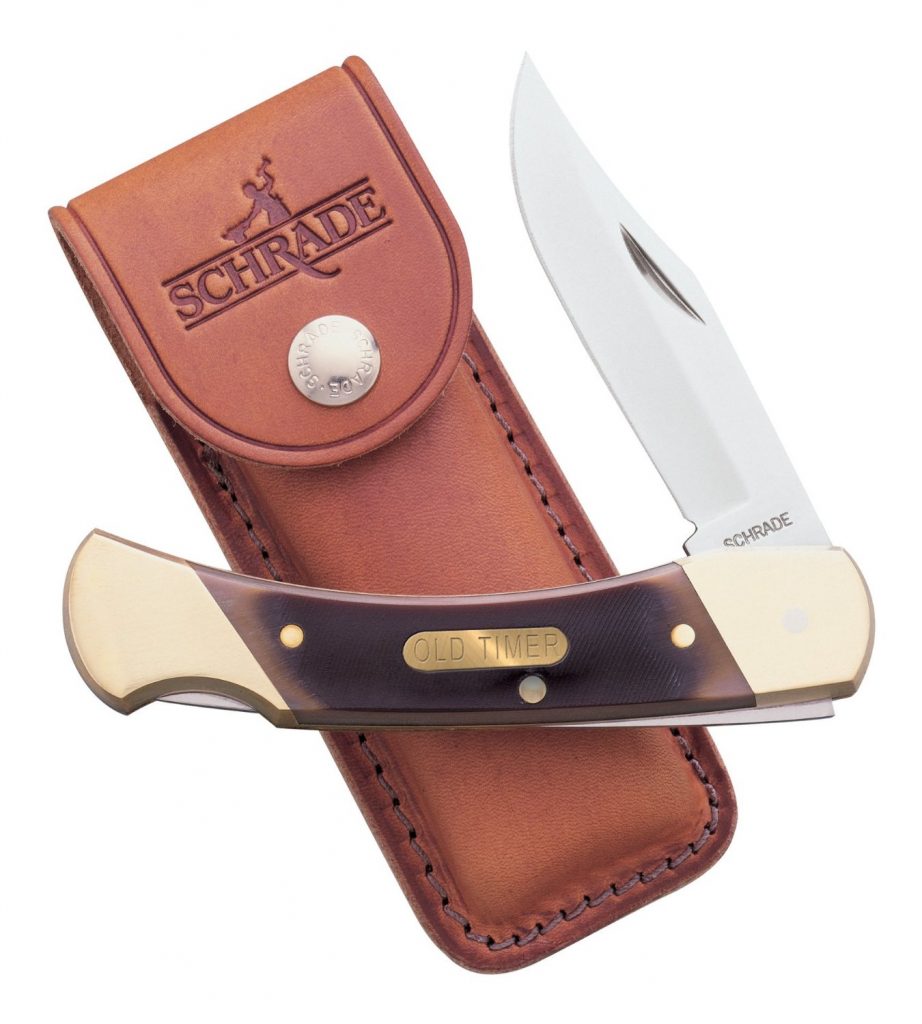 There's a reason why they call this one the old timer. It's shockingly vintage in appearance. This is a cowboy's pocket knife, more or less.
It features a single long blade that locks into place, set into a tortoise shell handle reminiscent of the Wild West.
PROS
Comes with a genuine leather folding case. This can keep your pocket knife safe if you prefer to wear it on your belt, and it also gives you a great place to store it when you aren't carrying it.
Blade is almost 4 inches long, which is substantially larger than most regular pocket knives.
CONS
Newer design is slightly different from Schrade's original cave bear blade from many decades ago.
CONCLUSION
You'll immediately know whether or not this knife is for you. Knives like these aren't traditional pocket knives, but many people would rather carry one of these folding knives on a belt holster than a compact pocket knife with a tiny blade. This is perfect for you if blade size is a major area of concern.
Which Is The Best Pocket Knife For You?
The best pocket knife won't be the same for everyone. After all, that's why so many companies make such a wide variety of knives.
Some people prefer different pocket knives for different purposes. The pocket knife you'd love to take hunting may not be the same kind of pocket knife you'd want to take with you to a work site.
At the end of the day, it's your decision – and there's no reason you can't buy several.