So you're looking for the best survival knife on the market. If you've never owned one before, it can be hard to tell what you're deciding on.
Features and accessories are different, and there are all kinds of knives for different purposes. You need to find the knife that's going to do what you want it to do.
Our Top Best Survival Knifes
| Picture | Survival Knife | Review |
| --- | --- | --- |
| | MTech USA MT-086 Series Knife | Our Review |
| | Survival Knife 5-in-1 by Albus Black | Our Review |
| | Maxam SKJSK Survival Knife | Our Review |
| | SE KHK6320 Tanto Knife with Fire Starter | Our Review |
| | Gerber Bear Grylls Ultimate Serrated Knife | Our Review |
What You Should Know Before You Buy a Survival Knife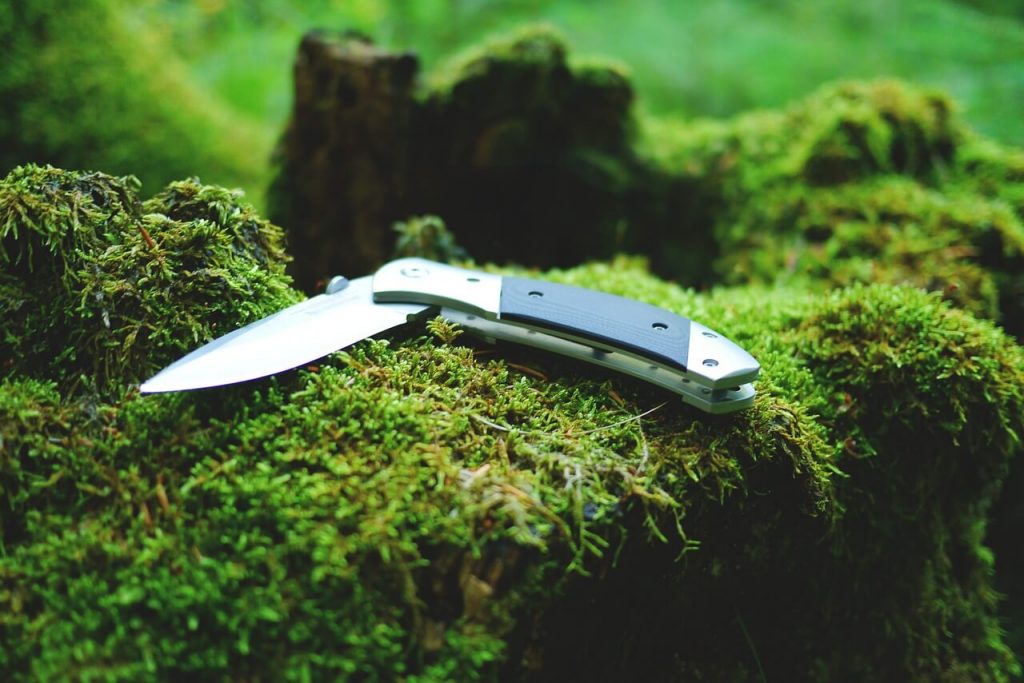 The knife you choose depends on the way you intend to use it. What makes a survival knife different from a regular hunting knife is the extension of its capabilities.
Most survival knives are made to be used with tools like fire starters. Many of them feature dual surfaces, such as a cutting side and a sawing side. Some of them have hollow handles that store small supply kits.
When you're looking for the best survival knife, what you need to consider most is how you intend to use it.
Are you a camper, a hiker, a fisherman, or a hunter? Are you all of those things at once?
You can either choose a knife geared towards a certain specialty, or find knives that are designed for maximum versatility.
You won't get the best survival knife even if it's really expensive, because one of the most important things to look for above all else is the durability of the blade.
It's inevitable that you'll need to sharpen any blade after a few uses. A good blade can be regularly sharpened for years. Blades made of cheap metal don't take to sharpening well, and they dull out in the blink of an eye.
A dull survival knife is like a pen without any ink. Even if you decide you don't need a knife with extra features, you should always opt for a survival knife with a reliable blade.
What is the Best Survival Knife? Top 10 Survival Knives Reviews
Now that you know what you're looking for, it's time to find the survival knife that will work best for you.
MTech USA MT-086 Series Fixed Blade Hunting Knife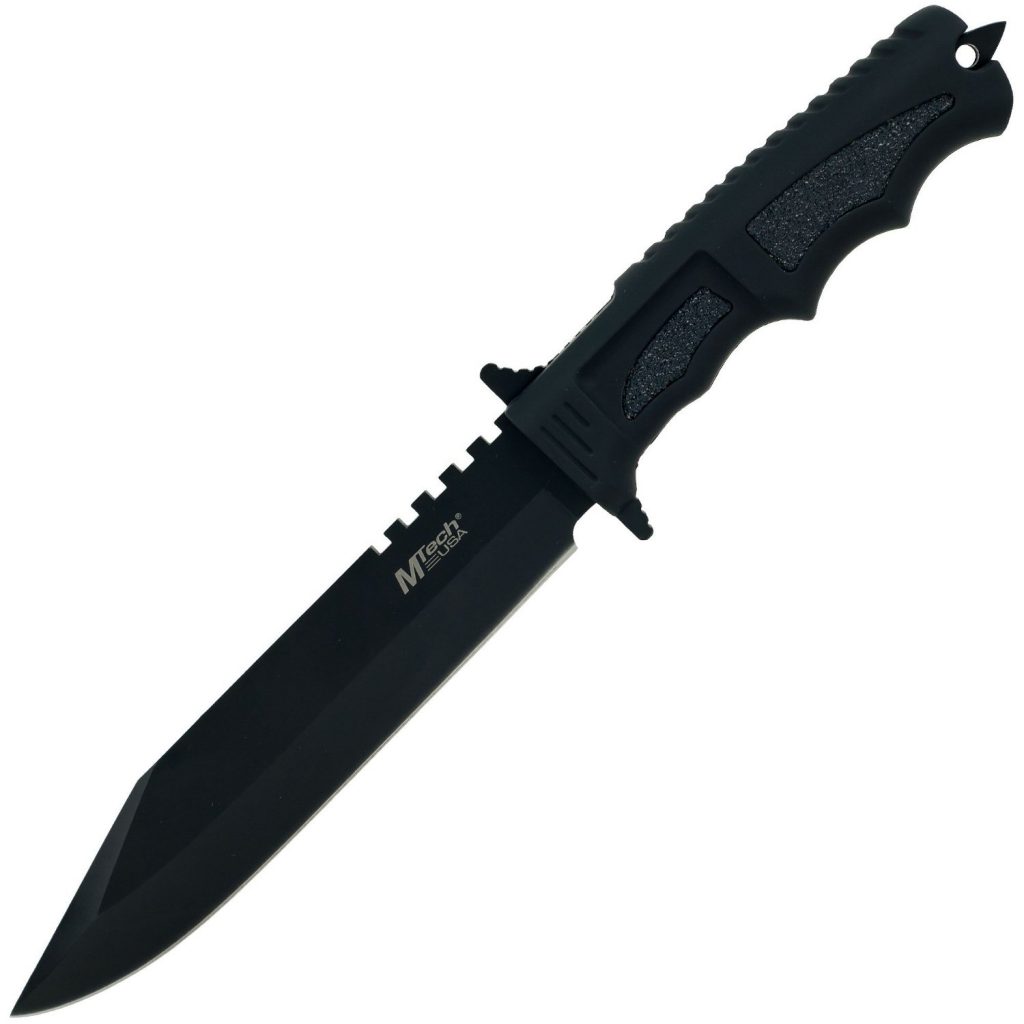 This is a simple survival knife. It doesn't come with any of the features that serious survival knives come with. It's stripped down to bare bones, but it's still a great knife.
Probably, the best survival knife for beginners. It is beginner friendly and it comes with a few design enhancements you'll appreciate on your next hike or hunting trip.
PROS
Grip enhancing inserts make it easy to use this knife when the handle is wet. Great for rainy conditions or fishing trips.
Comes with a safety sheath.
Designed for survival training.
7 inch blade is 3 millimeters thick, so it's perfectly portable without being bulky.
CONS
Isn't equipped with a sharpener or fire starter.
Sheath isn't lined, so you'll eventually need to replace it with constant use.
CONCLUSION
This is one of the top survival knives for the average hunter or hiker who just wants a knife to use as an insurance policy for a day trip. It's a combination of a hunting knife and a tactical knife, sold at an affordable price point.
This is a great first knife, although it isn't as versatile as a lot of the deluxe knives on the market. It will get the job done for shorter outings, so it's a great place to start with when you're learning to use a knife.
BlizeTec Survival Fixed Blade Knife: 3-in-1
This survival knife is good enough to go into a survival kit, and the price won't break the bank. You're getting a lot of functional extras with this knife.
The fire starter is among the most useful, particularly if you plan on taking this knife on a long trip. You'll appreciate the convenience when you need to cook something you've hunted or fished.
PROS
Comes with a lot of the extras you'd expect from a higher quality knife, but you pay almost half the price.
The LED flashlight has a battery door and the battery can easily be replaced. You don't have to toss it out when it stops working.
CONS
The sheath isn't designed for long term use. It should be fine if you don't take the knife out on a daily basis. Hardcore survivalists will need a more durable sheath.
The handle is functional, but compact. If you have especially large hands, it may not be an ergonomic fit.
CONCLUSION
This is a perfect midpoint when it comes to all-inclusive top survival knives. You're getting a few basic accessories, including a small portable fire starter.
If you're the occasional camper, hiker, hunter or fisherman, it's nice to have one of these in your backpack.
Survival Knife 5-in-1 by Albus Black
This is one of the best survival knives for everyday use. If you're the kind of person that wants to keep a solid utility knife with you in case of an emergency, that's exactly that this was designed for.
If you happen upon a car accident, this knife comes equipped with everything you'd need to help. It's just as great in an emergency situation as it is in your typical outdoor situation.
PROS
This knife also serves as a glass breaker and a seatbelt cutter. Even if you're only buying this to keep it in the glovebox of your car, you'll be glad you did.
Comes with a built in super bright LED light, and a small magnesium fire starter.
Multifunctional and versatile. It's the best of both worlds for a price you can afford.
CONS
Blade is on the smaller side. This makes the knife portable, but you may not be able to use it to cut tree branches if you need to.
The blade lock is on the looser side. You need to make sure you keep this folded and sheathed when you aren't using it.
CONCLUSION
Not only is this knife a bargain when you consider all of the things it comes with, it's just a great knife overall. This isn't a purchase you're going to regret.
Even if you find it isn't as useful for you when you're outdoors, it's an incredible survival knife to keep in your car. It's potentially a life-saving tool when you learn how to use it.
Coleman Fixed Blade Survival Knife with Black Nylon Sheath
This is one of the best survival knives for beginners who don't yet have a full survival kit. When you're developing a budding interest in learning survival skills, this is a comprehensive kit that will help you learn.
You're getting a small knife with three surfaces and a point, fishing like, a hook, a compass, matches, simple sewing supplies, and a waterproof carrying case.
If you want to practice survival before you decide on a long term knife, you'll want this one.
PROS
Comes with small sizes of everything you'll need to start a legitimate survival kit.
Rough textured handle stores smaller supplies inside.
It's also textured with a deep knurled grip that makes it easy to use the knife in wet conditions.
Perfect knife for a camping trip or a long hike. It has everything you need to catch a fish, prepare it, cook it, and then navigate back to your camp site.
CONS
Knife doesn't come pre-sharpened. You'll have to sharpen it periodically to keep it up to par.
Because this knife is designed for everyday portability, it's a little on the smaller side.
CONCLUSION
This is a great and probably the best knife for survival training. The small things included, such as the matches, can easily be replaced when you run out.
Once you've mastered the ability to use this knife and all of its included tools, you'll be ready to put together a serious survival kit and move up to a higher caliber knife.
If you're not sure survival training is for you, this knife is everything you'll need to find out.
Maxam SKJSK Survival Knife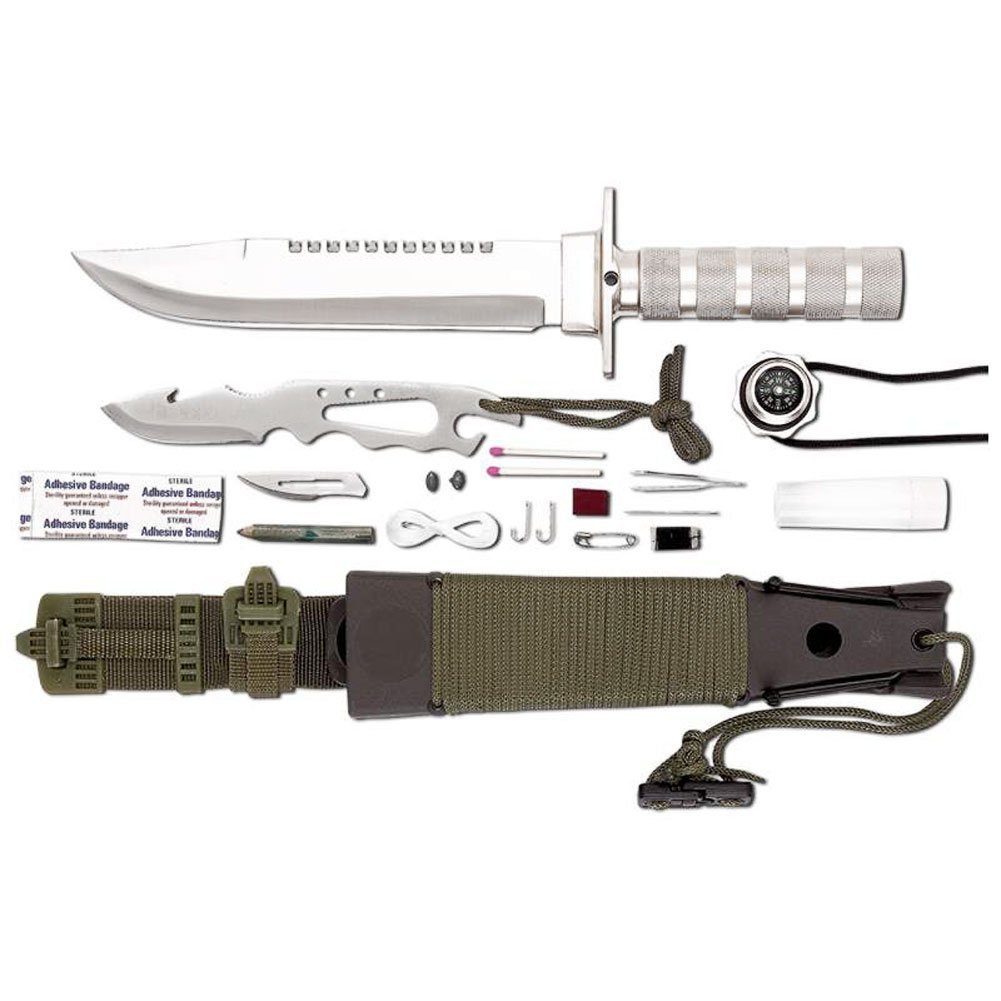 Every sportsman needs this knife. It comes with a ton of survival tools that are easily replaceable when you run out.
Basic fishing gear, matches, bandages, safety pins, sewing supplies, a pencil, razorblades, and even miniature tweezers fit inside the handle where they're stored away safely from the elements.
This is a great kit for someone who will need to take it out about once a month.
PROS
Comes with a separate skinning knife that fits in the sheath. This knife is especially great for filleting fish.
Blade is detachable and can easily be converted into a functional spear to hunt from afar. Just undo the Allen screw.
Blade is large enough to be multifunctional, unlike most basic survival knives that are roughly the size of the palm of your hand.
CONS
Comes with a compass, but the compass is of shoddy quality. Get a better one to carry with you.
Bottom can be converted to a slingshot, but there's no real point to that. It won't work in a long range scenario. You're better off using the blade to make a hunting spear.
CONCLUSION
This is a full kit at a budget price. It is functional, and less of a beginner tool that typical starter sets have. If you only need a real survival kit that you can use on special occasions, this one is perfect.
You'll want to supplement it with other survival tools, as the kit is not fully inclusive. For the price, there's no reason to complain. You're already getting a lot more than what most survival knife manufacturers typically include, and you can't beat that.
This one's just a knife – nothing more, nothing less. It's designed to be a great knife, and it lives up to that purpose. No gimmicks, no frills, and no extras.
If you want a quality knife and you're looking to keep things simple by eliminating all of the gadgets and bonus features, you're bound to love this. It's designed to last a long time with proper maintenance – just make sure you're using it correctly.
PROS
Reversible blade features one traditional sharp end, a functional point, and a saw on the opposite side. This is great for cutting through wood.
Knife is full tang, so it can't come loose or break.
5 millimeter thickness is slightly more than the average 3 millimeter thickness most survival knives feature.
CONS
Knife requires regular sharpening. This is actually normal with most stainless steel blades. It will return to full sharpness, but you may need to carry a sharpener with you on long trips.
Comes with a sheath, but it is basic nylon. If you plan on sharpening this knife significantly, you'll want a leather sheath.
CONCLUSION
This does exactly what it's supposed to do. If all you're interested in is a reliable knife that you know will hold up well on an extended hike or camping trip, this is the knife for you.
You can depend on this knife to hold up for a long time. If you care for it the right way and regularly sharpen it, you can get a solid few years of use out of it.
K Exclusive Amazon Jungle Survival Knife
Despite its lower price point, this is a top rated survival knife. This is not just a knife, but a full kit. The pommel of the handle is actually a compass.
When you unscrew the knife, the handle becomes your portable set of miniature tools. Fishing gear, matches, safety pins, and basic sewing supplies. It's easy to replace these items when they run out and keep the kit functional.
PROS
This knife has a decent sized blade with one smooth side, and one saw side.
The saw side is large enough to do some real damage. If you need to cut down branches for kindling or making a shelter, you'll be able to do that.
The sheath this knife comes with is made of leather. Most top survival knives come with inexpensive nylon sheaths that won't hold up to regular use. You can use this sheath for years.
The blade can be broken off the handle and converted to a spear if needed.
CONS
Only good for the basics. You probably won't be able to fight off a bear with this knife, but you can definitely clean a fish with it.
CONCLUSION
This is one of the best knives for survival if you're camping and fishing. It will allow you to do everything you need to do.
Hunters may want a larger full tang knife for the purpose of handling game. If that's not what you're looking to do, this knife can help you handle just about everything else. The hollow handle for storing small supplies is a great bonus, as is the durable sheath.
SE KHK6320 Outdoor Tanto Knife with Fire Starter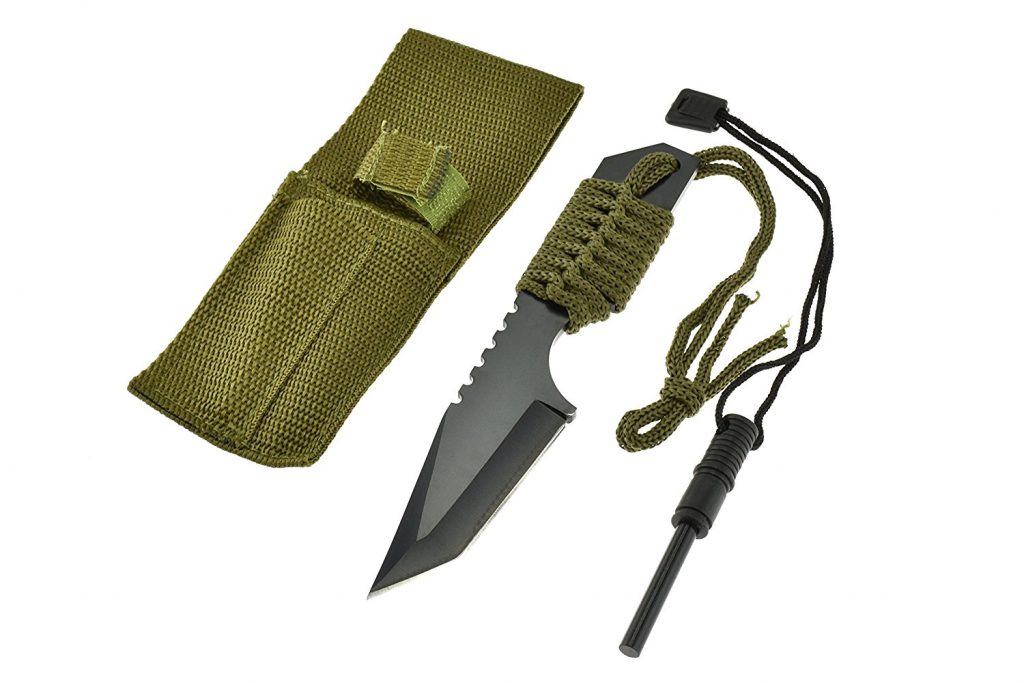 This is a mini survival knife, making it a great option for people who already have basic survival or camping gear and are just looking to supplement what they have.
The mini size of this knife makes it portable. It's best for use in preparing meals in the wild, and it even comes with a mini fire starter so you can cook your food.
The blade itself is three inches long, and it comes with a mini saw on the back.
PROS
Handle grip is actually made of braided cording. If you need some emergency cord, you can untie it and unwrap the cord from the handle.
It's nice to have a separate survival knife for cooking and eating. You won't have to worry about a dull blade from chopping wood. Because this knife is so small, it's easy to carry it in conjunction with a larger knife that you use to do all the hard stuff with.
The small size of the blade makes it easy to use this knife to create a custom survival tool. It can easily be converted into a spear, or attached to a lanyard.
CONS
This is more of a supplemental knife than a standalone knife. You'll need a lot more features for a serious survival knife that won't require any additional equipment.
CONCLUSION
This is more of a supplemental survival knife. When you're reading a survival knife review, you probably note a long list of things that make that knife great as a tool all by itself. This is a secondary knife.
Most survivalists carry more than one knife. Even if you reserve this specifically for starting fires and preparing food, you can't go wrong with the price. You never know when you're going to need an extra fire starter, after all.
CDS-Survival MOVA-58 Stainless Steel Survival Knife
If you only read one survival knife review, make it this one. This is a serious piece of equipment and it makes no compromises.
It comes with a sharpening stone, fire steel, and a complete genuine leather sheath. The blade itself is almost six inches long, and the knife is full tang.
This knife can cut wood as good as an ax, and it can even cut through bone. If you hunt, you'll love this knife.
PROS
This knife is made by expert crafters in Spain. It's designed and built by artisans who take knife making seriously.
Made for heavy duty knife work. You could probably cut down a tree with this knife if you sharpen it enough.
Edges are laser cut, rather than machine made. This makes for the highest precision possible.
CONS
This is an expensive knife, partially due to the impossibly high craftsmanship standard. If you value the craftsmanship, you'll find that it's worth the price.
CONCLUSION
This is the knife you'll want if you aren't messing around. It's designed to withstand the apocalypse. Though it doesn't come with a survival kit, it doesn't need to.
The craftwork speaks for itself. This is probably the best knife for survival on the market. If you need a knife you know can handle absolutely everything and you're willing to put your money where your mouth is, you won't be disappointed.
Gerber Bear Grylls Ultimate Serrated Knife
You've probably seen Bear Grylls on one of his survivalist TV shows. This knife was designed by him. As an expert survivalist, he created a knife with all of the features he appreciates.
It's more than a novelty item. It's a real, functioning piece of survivalist equipment that performs surprisingly well – especially for the reasonable price.
If you aren't familiar with Gerber knives, it should be noted that their quality is great. This knife may not have many features, but the ones that it does have are great.
PROS
Like a few other Gerber knives, this one features a serrated sawing edge on the back blade.
Comes with an integrated fire starter, and the butt of the knife is a knurled striking surface.
Attached to the lanyard is a micro whistle for emergencies.
Sheath comes printed with universally understood survivalist communications. If you ever need to get the attention of someone from a distance or someone in an aircraft, you'll appreciate having the reference sheet.
CONS
In the past, these knives had issues with the pommels coming off. This was an issue with the old version, and has since been resolved with new versions.
CONCLUSION
Make sure you're buying a new one directly from the warehouse. Don't buy a secondhand one, even if it hasn't been used. It could be old.
This knife will work well for more than just Bear Grylls fans. It's a solid survivalist knife, even though it is a celebrity endorsed product.
Gerber doesn't compromise on quality, and since they collaborated with an expert survivalist to make this knife, the standard of quality is even higher.
Which Should You Choose?
You probably know by reading a survival knife review which one has the features you're looking for. They aren't all built equally, and every knife has a different purpose.
A lot of survivalists carry multiple knives, and you may want to buy more than one to make sure you're getting the features you need and the portability you require.
In truth, the best survival knife is different for everyone.